In music, Ruth Crawford-Seeger (1901-1953) also advocated a change of direction. Surrounded by desperate poverty, Crawford-Seeger felt strongly that making art only for aesthetic reasons was absurd. "It became almost immoral to closet oneself in one's comfortable room and compose music for its own delight." As such, she composed avant-garde classical compositions with a clear political message. By transcribing and incorporating folksongs into her work, she was looking to move political ideas across American social classes. Crawford originally hailed from rural Ohio, but her family eventually moved to Jacksonville, Florida. A talented writer and poetess, Ruth also had considerable musical talents and eventually decided to pursue a career as a concert pianist. However, during her years at the American conservatory of Music in Chicago, her focus gradually shifted from performance to composition. In 1930 she became the first woman to receive the Guggenheim Fellowship and traveled to Berlin and Paris to further her studies. She married the musicologist, composer and teacher Charles Seeger in 1932, and her work at the Archive of American Folk Song at the Library of Congress resulted in various arrangements, transcriptions and interpretations.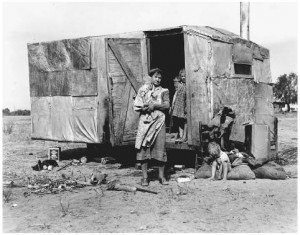 Crawford-Seeger's transcriptions of folksongs and her original compositions attempted to communicate a political message to an educated class. Her work "served to unite people of different class backgrounds, and her folk music collection for children were widely used in schools to foster feelings of national belonging and heritage." Crawford-Seeger wrote, "People can be made aware that many of the songs about their everyday lives … are songs of merit. This gives them a new sense of dignity and pride in their cultural heritage….The folk song grows out of reality. It is this stark reality and genuineness, which gives the folk song vitality and strength." However, Crawford-Seeger was also a powerful modernist composer, and her attempt to use high art in the service of social progress were not entirely successful. Nevertheless, her idea of placing music education in the service for a new national democratic order substantially enriched the American tradition of classical music.

Ruth Crawford-Seeger: String Quartet, III, IV

The "Great Depression" was the immediate result of the sudden devastating collapse of the US stock market on 29 October 1929. Known as "Black Tuesday," it plunged the world into a severe economic downturn in the 1930's. Construction virtually halted in many countries, personal income and tax revenue dried up with unemployment rising to unprecedented levels. Then as now, corporate Wall Street greed had a devastating effect on people on the bottom of the economic ladder. Millions of families lost their savings as banks collapsed, placing a substantial percentage of populations worldwide under enormous economic, social and psychological strains. This most desperate period in US history did spawn a number of literary masterworks, foremost among them John Dos Passos's "The Big Money," Edmund Wilson's "The American Jitters," James Agee's "Let us now praise famous men," and John Steinbeck's "The Grapes of Wrath." Focusing on the lives of the poor and working classes, these writers—communicating political and social principals in literature—saw capitalist America as a dying society in need of revolutionary changes.