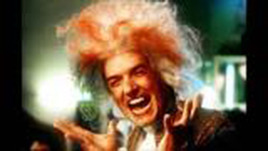 Wolfgang Amadeus Mozart was the undisputed rock star of the 18th century! Incredibly gifted as a musician yet nevertheless prone to long periods of self-doubt and professional jealousy, he made a lot of money but spent it just as quickly. As unique sounding documents, his music has stayed in the repertory ever since, and in equal terms, the fascination with his personality and character has persisted throughout the centuries. The 1984 motion picture Amadeus, written by Peter Shaffer quickly achieved cult status, and the 1985 song "Rock Me Amadeus," recorded by the Austrian pop musician Falco, topped the singles chart in the United States, the United Kingdom and much of Europe. The song addresses Mozart's popularity and his persistent struggles with money, and the video blends elements of Mozart's time with features of late 20th century contemporary culture.

Falco: Rock me Amadeus
Despite his fantastic pianistic abilities, Carl Czerny (1791-1857) became primarily known as a teacher. Among his students we find Beethoven's nephew Karl, and most famously, Franz Liszt. For most pianists, the name Czerny conjures up arduous, mind-numbing exercises for the keyboard and hours of boring practice time. Yet, we should not forget that Czerny worked during a pivotal time in the instrument's history, and that he created the basic technique to aid the average pianist. But it was Robert Schumann's scathing criticism that ruined Czerny's posthumous reception. As a pianist, Czerny made his Viennese debut at age 9 with Mozart's C-minor concerto, and he premiered Beethoven's Piano Concerto No. 1 in 1806 and the Beethoven Emperor Concerto in 1812. For his students and special occasions, Czerny arranged a large number of Mozart compositions for a variety of ensembles and instrumental combinations.

Wolfgang Amadeus Mozart: Piano Concerto in D minor, K. 466 (arr. Carl Czerny)
Alfred Einstein described the Adagio in B minor, K. 540 as "one of the most perfect, most deeply felt, and most despairing of his works that may simply have flowed from Mozart's pen in an hour at once tragic and blessed." Originally composed for solo piano on 19 March 1788, the work emerged simultaneously with a number of arias destined for a new production of Don Giovanni. The composer's financial situation was steadily deteriorating, as the war against the Turks led to cancellations of concerts and severe reduction in commissioned works. This solitary slow movement was written in the unusual key of B minor; Mozart wrote no other single piece in that particular key. The remarkable intensity of expression is only momentarily disrupted by sforzando accents that interrupts the quiet stillness, an effect certainly maintained in this accordion arrangement.

Wolfgang Amadeus Mozart: Adagio in B minor, K. 540 (arr. for accordion)
Emperor Joseph II established a professional wind ensemble at the Viennese court in 1782. Mozart not only wrote his wind serenades for the ensemble, but he also declared his intention of arranging his opera The Abduction from the Seraglio for wind instruments before anybody else would seize the opportunity to make money from it. During the time before copyright, such arrangements could be made with or without authorization. Following Mozart's death, the distinguished oboist Joseph Triebensee, who had played in the first performances of The Magic Flute, produced an arrangement for wind ensemble of La Clemenza di Tito. Triebensee was the director of the Prague opera, and La Clemenza was specifically commissioned for Prague to celebrate the coronation of Leopold II. We are not sure that Triebensee ever made money from this effort, but his charming arrangement has persisted until today.

Wolfgang Amadeus Mozart: La Clemenza di Tito, K. 621 (arr. Josef Triebensee)
Please join us next time to discover that Mozart himself was a rather active arranger of works by other composers.