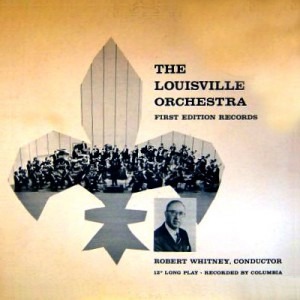 Robert Kurka
Symphony No. 2, OP. 24
Louisville Orchestra
Robert Whitney, conductor
Louisville Orchestra First Edition Records — LP LOU-616
Released 1961
III. Presto gioioso

"There is a degree of freshness and impetuosity that defines Kurka as an imitator of nobody. It must stand as the insufficient summation of a talent that was only beginning to find itself when Kurka died in the fall of 1957." Thus read the Saturday Review's critique of the 1959 Carnegie Hall premiere of Robert Kurka's Second Symphony.


Kurka's promising career ended abruptly when he died of leukemia at the age of 35. Born in Cicero, Illinois, in 1921, he received his music degrees from Columbia University. Although described as being principally self-taught, he did study composition briefly with Darius Milhaud, and Otto Luening. His own teaching credentials included faculty positions at the City College of New York, Queens College, and at Dartmouth. He also played violin in the faculty string quartets at those institutions. Awards he received included the George Gershwin Memorial Award and two Guggenheim Fellowships. The 1952 National Institute of Arts and Letters Grant was presented "To Robert Kurka, whose unusual musical skill and imagination in handling materials of music inspire confidence in his future as a composer." Nelson A. Rockefeller was presenter of the Brandeis University Creative Arts Award in 1957, saying, "To Robert Kurka, a composer at the threshold of a career of real distinction." Tragically, that composer passed away nine months later. His compositions included ten works for orchestra, five works for soloist with orchestra (including a very popular concerto for marimba), the opera
The Good Soldier Schweik
, five string quartets, five violin sonatas, other chamber works, piano and choral pieces — and two symphonies.
Symphony No. 2
was written on a commission Kurka received in 1952 from the Paderewski Fund for the Encouragement of American Composers. It premiered on 9 July 1958 with the San Diego Symphony under the direction of John Barnett. The
San Diego Evening Tribune
reported, "It swells with the teeming rush of the metropolis. Kurka's symphony is mindful of the best traditions of 19th-century music." Performances by the Cleveland Orchestra and the Boston Symphony soon followed, both conducted by Robert Shaw. The Boston Symphony performed it at home, and at Carnegie Hall in 1959. The
Boston Herald
reported it as being "A work of immense vitality and color … combines American optimism and bustle with Slavic rhetoric." Of the Carnegie Hall premiere the
New Yorker
said, "A composition of great individuality … has a sureness of draftsmanship that is not often encountered in contemporary American symphonies."
Musical America
commented, "It is a shame that it had to wait so long for a performance, for it is worthy of not one but repeated hearings … extremely fresh and appealing."
I first performed the Second Symphony with the Indianapolis Symphony in 1972. On first hearing, it sounded a bit like Americanized Prokofiev, with a touch of the quirkiness of Kurt Weill. And then, thirty years later, I located the widow of Robert Kurka and spent a week with her. I explored and copied two filing cabinets filled with his original scores, his letters, his photos, and an astounding number of premiere recordings of his works, many of which were on paper-backed, magnetized reels. I had them transferred to CDs. But that is all a tale for yet another day…