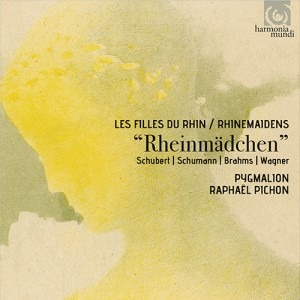 Schubert: Lacrimosa son io D.131b
From Rhinemaidens (2016)
Released by Harmonia Mundi
Schubert: Lacrimosa son io D.131b

The Rhine hymned by women's voices.
A major source of inspiration for writers and painters (Hugo, Nerval, Heine, Eichendorff, Turner) and above all composers throughout Romantic Europe, the legends of the Rhine still enthral our imaginations even today. The Ensemble Pygmalion and Raphaël Pichon invite us on a fantastic voyage through famous works (including Wagner) and others, much more rarely recorded, that are absolute gems of the repertory for female voices.