Franz Liszt dipped into the inspirational melody pool of Schubert's music time and again in his search for creating new sounds for the piano. Liszt wanted to both reproduce the song and, at the same time, make it a pianistic work. Everyone had a piano at home (or at least those in the fashionable sense) more than one had a good singer at home, so Liszt's strategy was meeting the market need.
In the Liszt cycle Soirées de Vienne, composed between 1846 and 1852, Liszt looked at Schubert's dances for his inspiration. He chose Schubert's Waltzes, Ländler, Ecossaisen, and German dances, all of which were Viennese dances in ¾ time. For the nine parts of the Soirées, Liszt chose themes from Schubert's 38 Waltzes, Ländler, and Ecossaises, D.145 (composed 1815–1821); 36 Originaltänze, D.365; Wiener Damen-Ländler und Ecossaisen, D.734 (1816–1821); Valses sentimentales, D.779 (ca 1823); 18 German Dances and Ecossaises, D.783 (1823-1824); and 12 Valses nobles, D.969 (1826).
Schubert's dances could be taken as the perfect music for Beidermeier Vienna. This period, generally dated between 1815 and 1848, saw the growth of the middle class and a wider appeal of the arts. The Beidermeier in music was signalled by the many publications for music-making at home.
Liszt was very fond of the Soirées and they featured in many of his performances in the mid-19th century. His Soirée No. 6 in A minor was based on themes from Schubert's 12 Valses nobles, D.969, and Valses sentimentales, D.779, and was revised at least twice. The final revision, done in 1869, was said to be part of the last recital he gave in Luxembourg, in July 1886. The 1869 revision was made for his pupil, Sophie Menter, who, after the death of Liszt was 'regarded by some as the incarnation of Liszt'. Liszt himself proclaimed Menter as his successor (on the other hand, she wasn't the only one of his pupils that he so declared).
Franz Liszt: Schubert – Soirées de Vienne: No. 6 in A Minor, S427/6ii (1869 version for Sophie Menter) (Dominic Cheli, piano)
The performer, Dominic Cheli, made his public debut in 2018 in Los Angeles and his recital debut at Carnegie Hal in 2019. He records on Naxos and Delos and is an active presenter for Tonebase Piano, an online music education platform.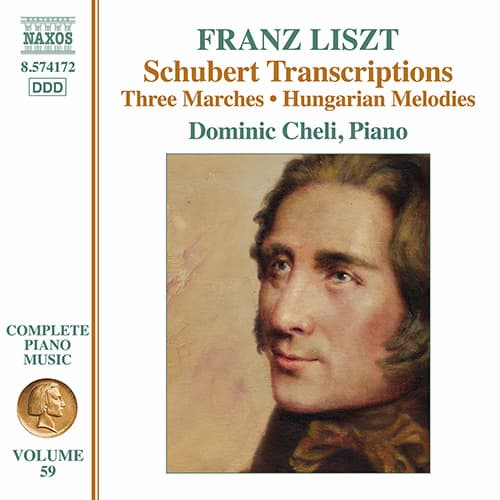 Franz Liszt: Schubert – Soirées de Vienne: No. 6 in A Minor

Performed by
Dominic Cheli

Official Website
For more of the best in classical music, sign up to our E-Newsletter