Mahler: Symphony No.1, Titan
When I began playing in an orchestra I found it quite challenging, even though I had grown up hearing my father practice and racing with his cello to engagements. (My father played in the Toronto Symphony for 38 years.) The lifestyle was more demanding than I imagined with day-time rehearsals, evening concerts, touring, teaching, and my own daily practice sessions on constantly changing repertoire. Some sort of social life seemed impossible. There were few women in principal positions. The prevailing mentality reflected an anti-female bias—wouldn't hiring a woman mean they'd miss services or quit if they started a family? I was determined to prove them wrong!

When I finally found the right guy, and made the decision to have a child, of course, it made life as a musician even more complicated. But I wasn't going to let that stop me! While pregnant I still played principal cello in the Minnesota Orchestra, performed solos, and traveled, despite morning sickness, which erupted with a vengeance all day.


The orchestra women shared a lacy black long gown for pregnancy. These were hard to come by. Our associate concertmaster wore it to term. Violinists, if all goes well, can play almost to delivery time since their violins are held up under their chins. It's another story with cellists. It seemed like every wee the lacy gown got tighter and tighter. By my fifth month it no longer fit me. I performed until the cello wobbled, when I was too big to hold or reach around the cello.
When the little fellow arrived, round the clock feedings took their toll. The cello had to go on the back burner for a while. Fortunately, I had accumulated several weeks of vacation time in addition to maternity leave, but when I had to return to the orchestra I cried every time I left in the evening to play the four concerts each week. With the responsibilities of my position and caring for an infant, I wondered how I thought I was exhausted before?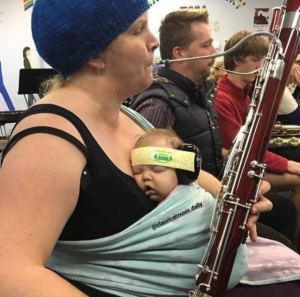 I remember my son getting the croup. My husband and I raced to the hospital. Wasn't my boy turning blue? I called in sick and I remember the personnel manager (a man) saying, "can't your husband stay with your son so you can make the concert?" In those days, there were no mechanisms in place if your child was ill, nor exemptions from tours. One night, pre-concert, I was all dressed in long black and my son threw up all over me. Fortunately, we are quick-change artists.
When we embarked on a tour to Japan it was heartbreaking to leave my 18-month-old at home. Today, orchestra contracts are more accommodating and include an allowance for a nanny (or husband) to travel with the orchestra so women can bring their little ones. Nursing mothers are not compelled to travel. Keeping families together makes a huge difference for musicians who are parents. Surely, we perform better and even though it's complicated to eat at appropriate times, and the travel is often intense everyone pitches in to entertain the little ones.
My husband took my son sight-seeing when I had to practice or had rehearsals and they were good sports about packing and being ready early every morning for yet another flight or bus ride to another country.
When my son was a little older he (and my husband) did come on several international tours and I am grateful my son was comfortable backstage, on airplanes and busses, and ready to try eating everything from pigeon in Berlin to sauerbraten and sachertorte in Vienna. But there are some stories to relate.
The daughter of our principal harpist was our main babysitter both at home and on tour. During concerts, they would stay at the hotel. Little did we know that many of the orchestra youngsters gathered in one room and partied, even ordering room service! One night they were running in the hallways at the Intercontinental Hotel in Vienna pressing every button they saw. A red button was appealing. Suddenly fire doors descended and they were trapped! The concierge had to let them out.
My son's fascination with pressing buttons included the elevator buttons. He pressed all of them. The doors opened and our soloist for the tour, violinist
Joshua Bell
, entered the elevator. He took one look at the fully lit panel and backed out quickly, saying, "Maybe I'll take the next lift…" After the incident, my son attended the concert and he heard Josh perform
Tchaikovsky's Violin Concerto
followed by
Mahler
's Symphony No. 1. He sat proudly in the fourth row at the Musikverein in Vienna. Afterwards, backstage, my son said, "how can your fingers move so fast?" Josh winked at us, and gave my son an autograph.
Pyotr Il'yich Tchaikovsky: Violin Concerto in D Major, Op. 35 – III. Finale: Allegro vivacissimo (Julia Fischer, violin; Yakov Kreizberg, cond., Russian National orchestra)
Several female soloists successfully balance motherhood. Many of them travel with their children including violinists
Anne Sophie Mutter
, a single mother of two children, and
Anne Akiko Meyers
. Meyers relates that her pregnancy happened immediately after getting married. The family took it in stride and the three toured together. Then she got pregnant again and faced the prospect of travelling with two children!
They feel as I do, that despite the rigors of touring, the experience of sampling different foods, meeting people of different cultures, hearing great music, and seeing their moms in their professional roles is invaluable. "My son", Mutter says, "adores Tchaikovsky and
Rachmaninoff
and now he is falling in love with
Mozart
. It seems to touch a string in his heart and his soul…"