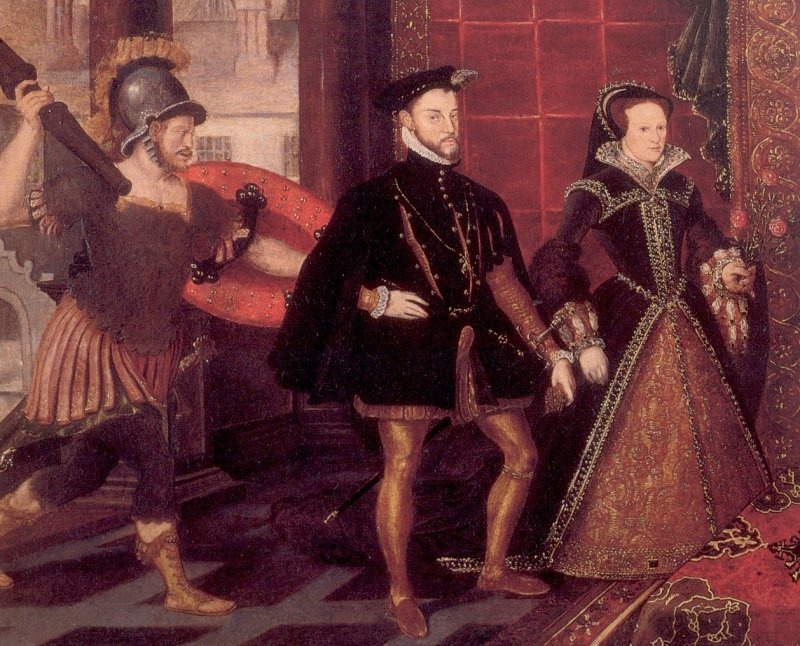 Pierre de Manchicourt: O Virgo virginum

In 1554, a remarkable wedding ceremony took place at Winchester Cathedral. The bride was described as "a faded little woman with red hair and no eyebrows." That little woman was no other than Mary Tudor who recently had staked her claim to the English throne. Mary intended to take Protestant England back to Catholicism. As such, the chosen husband was no other than the catholic sovereign of Spain, Prince Philip. The marriage ceremony, as could be expected, was full of pomp and court splendor.

Mary and Philip lost no time in trying to conceive a child, and by November 1554 it was officially announced that the Queen was with child. The news of an heir to the Tudor throne was greeted with great enthusiasm in London society. Christmas Day 1554 was celebrated in St. Paul's Cathedral, and turned into a rousing and flamboyant musical celebration. Philip had shipped in his best musicians from Spain for the occasion, and it included the organist Antonio de Cabezon, Philippe de Monte and the Franco-Flemish composer Pierre de Manchicourt.


Pierre de Manchicourt (1510-1564) was born in Béthune, a small town in northern France. Interestingly, information on his early life can only be found on the title pages of five important compositions. We learn that he was director of the choir at Tours Cathedral in 1539 from the cover of a set of motets. In 1545 he worked at Tournai Cathedral, and by 1556 he was a canon of Arras Cathedral. By 1559 he went to Spain and was the director of the so-called "capilla flamenco" (Flemish Chapel) at the court of Prince Philip. This famous choir was primarily charged with the performance of musical repertory from the Burgundian-Flemish school of composition. However, their extensive repertory also included works from Roman and Venetian masters.
Manchincourt learned his musical craft in Northern Europe, yet through his travel, performances and employment abroad significantly assisted in the diffusion of that particular musical style. He helped to create one of the first truly international styles of music. He composed a large number of motets for a variety of voice combinations, several volumes of secular chansons published by the famous Parisian printer Pierre Attaingnant, and a number of highly attractive masses. He died in Madrid in 1564, and this year we commemorate the 450th anniversary of his death.