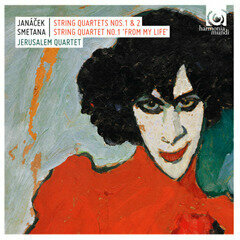 Leoš Janáček
String Quartet No. 1 "Kreutzer Sonata"
I. Adagio. Con moto
From Janáček / Smetana – String Quartets (2014)
Released by Harmonia Mundi
Janáček: String Quartet No. 1 "Kreutzer Sonata" – I. Adagio. Con moto

Leoš Janáček's String Quartet No. 1, "Kreutzer Sonata", was written in a very short space of time, between 13 and 28 October 1923, at a time of great creative concentration. The composition was inspired by Leo Tolstoy's novel The Kreutzer Sonata which was in turn inspired by Beethoven's Violin Sonata No. 9, known as the "Kreutzer Sonata" from the name of its dedicatee, Rodolphe Kreutzer.

"I was imagining a poor woman, tormented and run down, just like the one Tolstoy describes in his Kreutzer Sonata", Janáček confided in one of his letters to his young friend Kamila Stösslová. In the music of the quartet is depicted psychological drama containing moments of conflict as well as emotional outbursts, passionate work rush towards catharsis and to final climax.