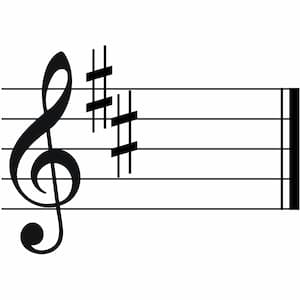 D major is unquestionably one of the "bright" keys – perhaps the brightest, and, allegedly, for Mozart the "happiest" key (he wrote three piano concertos in D major and four piano sonatas, including the sonata for two pianos KV 448). It's heroic and triumphant, the key of joyous fanfares, majesty and optimism.
Mozart: Sonata for Two Pianos KV 448
This finely-crafted sonata epitomises the pure classical structure and is an uplifting and virtuosic work to play and to hear. The joyous first movement opens like an operatic overture, replete with timps and trumpets while the middle Andante has a single aria-like melody shared between the two instruments. The finale is an ebullient rondo which feels like a piano concerto without orchestra.
Chopin: Prelude in D, Op. 38 & Mazurka in D Major, Op 33, No. 2
Chopin composed most of his Opus 28 preludes prior to the winter of 1838-39, when he joined his lover, George Sand, on the island of Majorca. The Prelude in D Major, the fifth of the set of 24, packs a lot into a miniature which lasts a mere half a minute. It's scored in continuous semiquavers which glitter with all the positivity which the key of D major suggests.
Frédéric Chopin: Prelude No. 5 in D Major, Op. 28, No. 5 (Grigory Sokolov, piano)

The Mazurka in D major opens with a happy main theme, embellished with ornaments. The off-beat rhythms, characteristic of the Polish folk dance on which Chopin based his Mazurkas, is clear in the accompaniment.
Frédéric Chopin: Mazurka No. 23 in D Major, Op. 33, No. 2 (Idil Biret, piano)


Beethoven: Piano Sonata No. 15 in D major 'Pastoral'
The nickname 'Pastoral' was given to this piano sonata by a London publisher, suggesting perhaps nature and the countryside or the calm simplicity of this sonata in contrast to the one which precedes it (the 'Moonlight' with its unsettling opening movement and restless finale). The first movement of the Sonata in D major opens with a low D pedal point in the bass, which suggests a bagpipe drone and is associated with country scenes. This pedal point is heard again in the Andante which opens with a foreboding minor-key theme before a cheerful, skipping dance in the middle to lighten the mood. A brief, playful Scherzo follows, while the finale is firmly rooted in D major, whose lilting opening recalls the pedal point of the first movement. According to Beethoven's pupil Czerny, this was one of the composer's favourite sonatas and one which he never tired of playing.
Ludwig van Beethoven: Piano Sonata No. 15 in D Major, Op. 28, "Pastoral" (Boris Giltburg, piano)

Rachmaninoff: Prelude in D, Op 23 No. 4
This Prelude rather contradicts the main characteristics of the key of D major. It begins with a calm, flowing melody and accompaniment, a song without words, almost Schumannesque in character, but grows increasingly more dramatic in its middle section, with several minor-key modulations and ecstatic episodes.
For more of the best in classical music, sign up to our E-Newsletter