When we think of Arles, we think of the paintings of Van Gogh: sun and fields and trees. In 1990, the Japanese film director Akira Kurosawa made a set of short films, collectively entitled Dreams. One of the dreams, Crows, starts with a visitor looking at a wall of famous paintings by Van Gogh, and then our visitor steps into one of the paintings, The Langlois Bridge at Arles (1888) and is in the world of Van Gogh.
It's a film of the sun, the fields, and the primary colours used by Van Gogh. And, at the same time, it's a film of the young artist's search for the master and how van Gogh's art will carry on no matter who is his audience.
The film is the inspiration for Spanish composer Ramón Paús' 2009 work, Piano en Arlés. Just as Van Gogh moves in the film through the Arles countryside, looking for light and shadow, so Paús' work uses the two shade contrasts.
Paús imagines the piano in the audience for the film: 'towards the end of one of the episodes in Akira Kurosawa's Dreams, we see Van Gogh hurrying through the countryside in pursuit of the light. 'My piece came to life as if a piano, personified, were watching this situation and all at once began to play…'
It's not a work that's an easy trip through the countryside. It's as difficult and challenging as Van Gogh found the world – moments of peace in a yellow wheat field, agitated as the branches of the trees. It's so freely written that it sounds less like a formal work for piano than an improvisation.
Ramón Paús: Piano en Arlés (Eduardo Fernández, piano)


The work was given its premiere in 2013 by the pianist on this recording, Eduardo Fernández, who was awarded the Spanish National Radio Culture Prize in 2016. He is considered by Fanfare magazine to be the successor to Alicia de Larrocha and has produced prized recordings of Spanish music.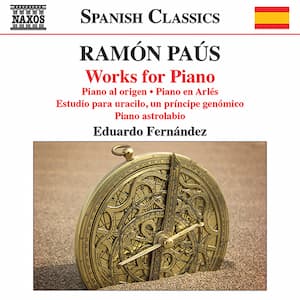 Ramón Paús: Piano en Arlés

Performed by
Eduardo Fernández

Official Website
For more of the best in classical music, sign up to our E-Newsletter