Violinist Pamela Frank, born to noted pianists Claude Frank and Lilian Kallir in New York City on 20 June 1967, took to the violin at an early age. She started her studies at the age of 5 as a student of Shirley Givens, and after an apprenticeship lasting the better part of 11 years, continued her education with Szymon Goldberg and Jaime Laredo. She launched her career in 1985 with Alexander Schneider and the New York String Orchestra at Carnegie Hall and received the Avery Fisher Career Grant in 1988.
Following her graduation from the Curtis Institute of Music in Philadelphia, Frank established an active international career performing with the most distinguished soloists and ensembles around the globe. Frank made her New York Philharmonic debut in October 1994, produced a number of recordings, and was appointed faculty at the Curtis Institute of Music. With her career going exceedingly well, disaster struck in 2012.
Johannes Brahms: Violin Sonata No. 1 in G Major, Op. 78 (Pamela Frank, violin; Peter Serkin, piano)

A career-threatening injury started to cause severe pain in her neck and numbness in her hand, completely shutting down her ability to play the violin. The medical community advised surgery to fuse her neck, but opting to take a much less invasive route, she consulted the New York-based physical therapist Howard Nelson. Frank was initially highly skeptical about Nelson's approach to the problem. Frank recalls, "while I was facing an injury so dire that I threatened my career, he was starting with seemingly mundane measures: putting pillows under my arms; trying to correct my head position from being too far forward when she sat in a chair or walked across a room. Given these seemingly simple measures, I was ready to ask for a refund." Nelson quickly assessed the biomechanical and neuromuscular causes of her problems and helped her modify and retrain her movements. It took an eternity, almost two years, but Frank was back to playing. And to cap this fairytale story, Frank and Nelson got married.
Wolfgang Amadeus Mozart: Violin Concerto No. 5 in A Major, K. 219, "Turkish" (Pamela Frank, violin; Zürich Tonhalle Orchestra; David Zinman, cond.)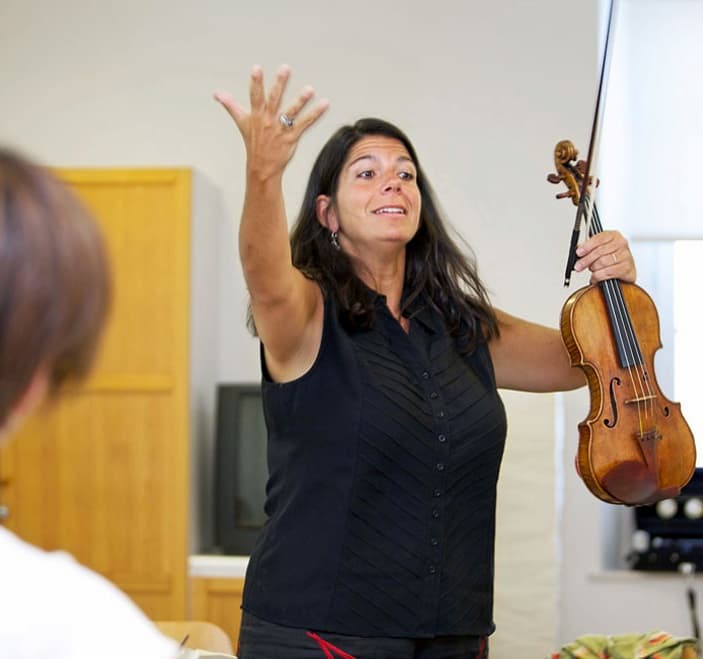 As Laurie Niles reports, "Howard discovered all kinds of daily habits that were contributing to Frank's shoulder injury. For example, she had a habit of bending her head forward and left. Her shoulder was hiked up on a regular basis, and she was sleeping in a way that was causing strain. She also tended to throw her head forward and move it too much, she was even shaking her head when washing her hair and brushing her teeth, and pushing her head forward to eat and drink, rather than bringing the food up to her mouth." As Nelson explains, "How you use your body all day can help or hurt you. Your body adapts to how you use it." And let's face it we all put unnatural strains on our bodies on a daily basis. And when you include hours upon hours of practicing and playing a musical instrument, a veritable athletic event, performance related injuries are all too common. The process of recovery is not completed when muscles are healed and the pain goes away, but "it involves specific measures and constant attention to make injury prevention a way of life."
Josef Suk: Fantasy in G minor, Op. 24 (Pamela Frank, violin; Czech Philharmonic Orchestra; Charles Mackerras, cond.)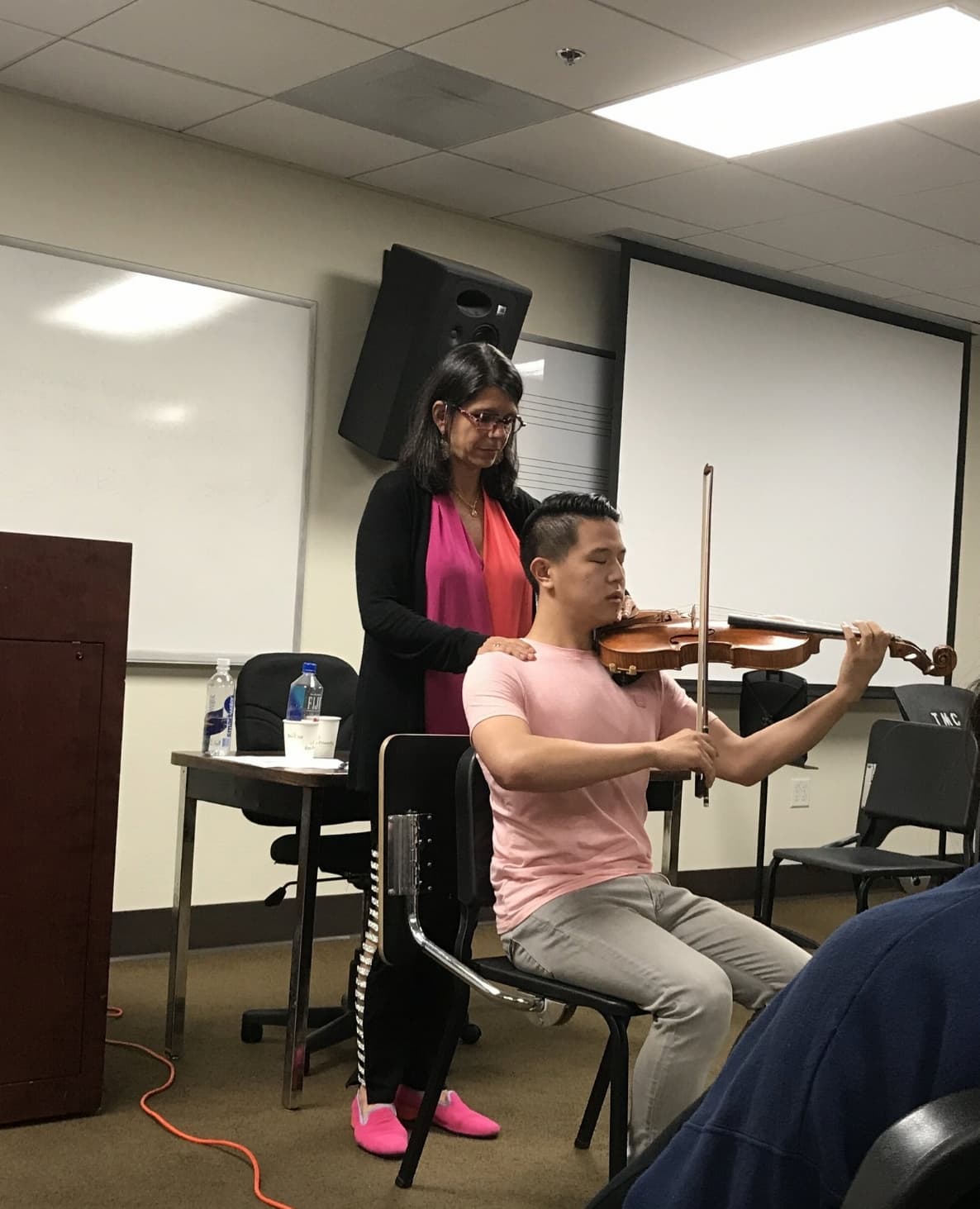 Frank and Nelson decided to use their expertise in injury prevention and treatment of musicians to establish "Fit as a Fiddle Inc." The aim of treatment is to modify and retrain problematic alignments and movement habits with the goal to help musicians find long-term solutions and to prevent future injury. They primarily work in private individual sessions, observing how musicians use their instruments, align themselves, use their muscles, and move. In group sessions, Nelson gives a one-hour presentation on injury prevention and movement analysis. He uses the case study of Pamela Frank to illustrate how faulty movement habits in daily life, and while playing an instrument, can be injury-provoking, and how habitual movement patterns can be retrained. As a general advice, the best medicine is prevention. "Don't play through pain, do not play through numbness. Do not even play through aching." Frank adds, "make your environment adapt to you by customizing your set-up to your anatomy. Use the least amount of muscle tension for what you are doing." And as most musicians can probably attest to, "It is important to set boundaries in your practice. Marathon practice sessions with no breaks are a formula for injury. Taking just a minute-long break every 20 to 30 minutes diffuses any pressure or build-up in your body."
For more of the best in classical music, sign up for our E-Newsletter
Ellen Taaffe Zwilich: Violin Concerto (Pamela Frank, violin; Saarbrücken Radio Symphony Orchestra; Michael Stern, cond.)