Becoming joint winner of the Silver Medal at the 1982 International Tchaikovsky Competition, with no Gold Medal awarded that year, propelled Peter Donohoe to international stardom. Renowned as one of the foremost pianists of our time, his performances radiate mature musicianship, stylistic versatility, and commanding technique. A critic writes, "I cannot imagine a living pianist capable of improving upon Donohoe's outstanding artistry."
Prior to his appearance in Moscow, Donohoe had already been busy touring the competition circuit. He first took part in the British Liszt Competition in 1976 and was awarded third prize. In the same year, he entered the Bartók-Liszt Competition in Budapest, Hungary, winning the Special Prize for his performance of Bartók. Although expecting to win the Leeds International Piano Competition in 1981, Donohoe only placed sixth. He remembers, "there was a big stink and everybody thought what the hell were the judges thinking? And they were right to think that, I am sorry, that sounds awfully immodest and arrogant, but I was glad I didn't win Leeds because I wouldn't have entered the Tchaikovsky Competition if I had.
Peter Donohoe Performs Rachmaninoff's Piano Concerto No. 3 (Excerpt) "Tchaikovsky Competition 1982"
Peter Donohoe was born in Manchester, England, on 18 June 1953. His mother was an amateur pianist, and they had an upright piano in the living room. Donohoe had always been fascinated by the instrument and used to reach up to the keys and make sounds. As he remembers, "I was quite taken by the sounds." In an interview with "ClassicFM," he recalls an amusing anecdote. "A nursery at the school I went to, a kindergarten and I can actually remember learning a carol. I went home and tried to find it on the piano. And I just happened to start in the dominant of F major, but it could have been key. And I couldn't work out why the B sounded wrong, and of course, it was because it needed to be B flat, not B. It was my grandfather who came up and said, "you need that black thing up there, they're not all white" – I thought you only played the white ones."
Pyotr Ilyich Tchaikovsky: 6 Morceaux, Op. 21 (Peter Donohoe, piano)

With his musical talents rapidly emerging, Donohoe was enrolled at Chetham's School of music initially studying violin, viola, clarinet, and tuba. However, he was soon in demand as a pianist as he was particularly good at sight-reading, and had a good memory. He remembers, "I became like the local dogsbody—a person who has to do all the boring jobs that nobody else wants to do—for accompanying, and eventually playing in assembly and hymns and so on." Donohoe received his first formal lessons in primary school from Alan Taylor, and subsequently from Alfred Williams and Donald Clarke. It was Clarke who encouraged him to audition at the Royal Manchester College of Music at the age of 14. Professor Derek Wyndham insisted on taking on Donohoe as his youngest student, and he still considered him "the biggest influence in my musical training." Donohoe went to study music with Alexander Goehr at the University of Leeds but returned to Manchester to continue working with Wyndham. He graduated in 1976 with first-class honours in both piano and percussion.
Olivier Messiaen: Cantéyodjayâ (Peter Donohoe, piano)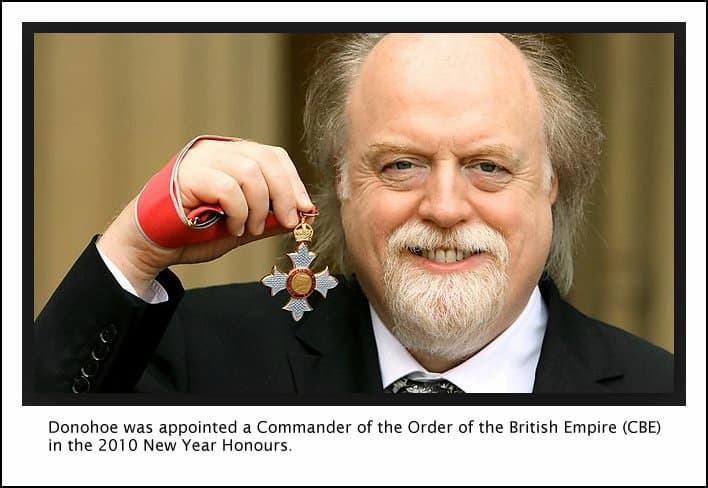 In fact, Donohoe was engaged for a trial as timpanist with the BBC Philharmonic in 1975, and he founded a rock group, a percussion ensemble, and performed as a free-lance percussionist in opera and symphonic performances across the UK. However, during his final year as an undergraduate, Donohoe decided to focus on the piano. And after graduating, he spent one year studying with Yvonne Loriod and Olivier Messiaen in Paris.
When it came to entering competitions, Donohoe was largely self-motivated. "I knew from a purely practical point of view," he explains, "that without a prestigious competition victory, my career had reached a ceiling. There is no question that as things are, the competition helps, whether it should or not is another question." For Donohoe, competitions as a method of bringing the most deserving musicians to public attention have shown real flaws. "Fundamentally and instinctively, I disagree with the competition process," Donohoe said. "But what alternative is there?" Unless somebody absolutely has to, Donohoe advises aspiring hopefuls against a career in music because "being a musician today is a nightmare." At the moment, "it's all about smiling and being sexy for the camera, and if you get the right photographer anyone can do it. It's not enough to make a music career out of. And the music isn't enough for the marketing people. It's a really difficult period."
For more of the best in classical music, sign up for our E-Newsletter
Peter Donohoe Performs Beethoven: Piano Concerto No. 4 "Allegro" (Leeds 1981)