'the music of evaporation'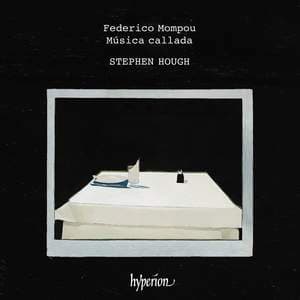 Federico Mompou's piano work Musica Callada is a set of twenty-eight short pieces that were written between 1959 and 1967. It was the last piece of piano music published in the composer's lifetime The title, borrowed from the Cantica spiritual by the Spanish mystic and Carmelite friar St John of the Cross, translates as "Silent Music" in English, and the 28 miniatures which comprise the work are reflective and introspective, with a focus on the quiet moments that often go unnoticed. The composer was known to be a quiet, shy man, and this music is a reflection of his personality.
Despite their brevity (most pieces are around 3 minutes, the shortest a mere fleeting 45 seconds), each piece is a complete and fully-realized musical idea, with a unique character and atmosphere, with a focus on the subtle nuances of tone and colour. Mompou's use of harmony is also notable in Música callada. The music is often tonally ambiguous, with a focus on unconventional chord progressions and unusual harmonic relationships. This creates a sense of ambiguity and open-endedness as if the music is exploring emotional and spiritual terrain that is difficult to fully grasp. Despite its quiet and introspective character, Música callada is also marked by moments of intense emotional expression. These moments often come unexpectedly, as if emerging from the silence and stillness that pervades the music. These moments of emotional intensity are all the more powerful for their contrast with the quiet and introspective passages that surround them.
Federico Mompou: Musica Callada – I. Angelico

From childhood, Stephen Hough has had a strong affinity with the music of Federico Mompou. In his memoir Enough he describes an LP of Mompou's music which he had as a child, playing it over and over again, and his fondness for this music is very evident in this recording.
Federico Mompou: Musica Callada – VI. Lento
Not only is the sound crystalline, thoughtful, and nuanced, Hough neatly captures the fleeting, wistful nature of these elusive yet profound pieces, making each one a miniature meditation. Phrases are sensitively sculpted, dynamics, textures, and moods are subtly, immaculately judged. He allows the mystical simplicity of this music to speak, quietly yet forcefully, finding a perfect balance between warmth, tenderness, and aloofness, as the music asks. Sounds come and go, fleeting and fragile (the quote at the top of his article is Stephen Hough's own comment on this music). The overall listening experience is mesmerising, beguiling and rewarding.
For more of the best in classical music, sign up to our E-Newsletter
Música callada is available on the Hyperion label