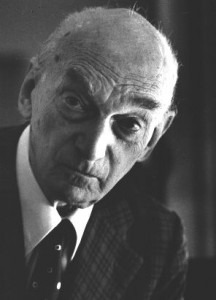 Cancons i danses (1962)
Variations sur un theme de Chopin (1957)
Federico (Frederic) Mompou (1893-1987) was one of the greatest Spanish composers of the 20th century. A Catalan by birth, he studied and appeared on stage in Barcelona since young. Later he studied piano in Paris Conservatory under Isidor Philipp, a distinguished pianist and schoolmate of Debussy.

In one occasion, Mompou heard Gabriel Fauré perform his Quintet and was inspired to becoming a composer. Added to this, his shy and reticent nature discouraged him a career as a concert pianist and he dedicated his vocation to composition. Except for a brief return to Barcelona during the World War I, Mompou stayed in Paris for over 20 years. It was there he gained his fame as the leading composer of his days.
In 1941, to escape the Germans in Paris, Mompou returned to Barcelona. He married the Catalan pianist Carmen Bravo in 1957, moved to an apartment on Passeig de Gràcia, and passed away in 1987. Bravo outlived Mompou 20 more years and passed away in 2007, leaving behind a library of scores, books and recordings in the same apartment which was to become Fundació Frederic Mompou (the Frederic Mompou Foundation).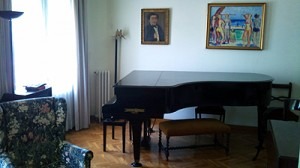 Mompou's early compositions date from during his studies in Paris. Like Chopin, he composed chiefly for the piano, but unlike Chopin, he hardly wrote any large scale compositions. Chiefly influenced by Satie and Debussy, Mompou's music contains an abundance of musical idioms of his beloved Catalan. This juxtaposition of musical styles – at times intimate and minimalistic, or poetic and impressionistic – created a profound musical identity which pervade throughout his entire output. Mompou's music is unique and unmistakable, economic (most pieces have very few notes of the page compared to his contemporaries!) yet exuding a rare sophistication.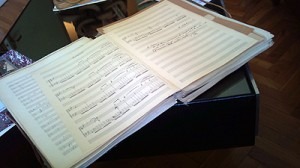 Mompou recorded all of his published works for the Spanish label Ensayo. His playing is sensitive, elegant, and unruffled. His scores are now widely published. In 2007 (after the death of Carmen Bravo), while organizing Mompou's bookshelf, the Fundació Frederic Mompou discovered a stack of manuscripts containing previously unpublished and unrecorded works. They are to be published in 2010/11. Mompou's music is extensively represented by recordings of pianists such as Arthur Rubinstein, Arturo Benedetti Michelangeli, Alicia de Larrocha, Stephen Hough, Jordí Maso, Josep Colom and many others. The newly discovered works were premiered and recorded by Marcel Worm. Pianist Ernest So gave the Hong Kong premiere of these works in 2010.
Notable compositions:
Variations on a theme of Chopin (taken from Chopin's Prelude Op. 24 no. 7 in A major)
13 Cançons y Danzas (Song and Dance)
12 Preludes
4 books of Musica Callada
Related videos:
Stephen Hough – Federico Mompou: Secreto

Michelangeli – Federico Mompou: Cancion 6 (live 1957)

Michelangeli – Federico Mompou: Cancion y danza No.1

Zoltán Lengyel – Federico Mompou: Preludes 1-3

Recommended recordings:
Mompou plays Mompou
Jordí Maso plays complete piano works of Mompou
Stephen Hough plays Mompou
Jordí Maso plays complete piano works of Mompou
Biography written by pianist Ernest so.
Photo credit: classical.net