In the fifteenth century, when manuscript book production really took off, the problem of blank space in the margins had some unique solutions. When these were music books, even the initial letters of songs were decorated.

In a metaphor of imitation, monkeys often appeared in the margins, doing things that people would do, but in an animalistic manner. They play the dulcimer, they play the bagpipes, they sing, they play the organ, and do many other things.

The initials in the Copenhagen Chansonnier, a fifteenth century music book, has many decorated initials, and the ones with monkeys are fun and interesting. The Chansonnier is for 3 or 4 voices, where the top voice, the Superius, with the song text is on the left-hand page, and the Tenor and Contratenor share the right-hand page. Since the Tenor and Contratenor are untexted except for the first couple of words of the song, they are always decorated with initial T and C letters. The top voice has many different letters for the text.

A man emerging from a flower, two monkeys, and a butterfly form a calligraphic "T" for the start of the song 'Tart ara mon cueur sa plaisance' by Jean Molinet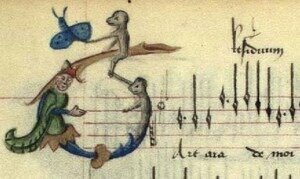 A monkey riding a dragon forms the letter 'C' for 'Contratenor,' also for the same piece by Molinet



A monkey fights a winged monkey across two towers of a castle, for the middle part of a bergerette by Antoine Busnors, 'M'a vostre cueur mis en oubli'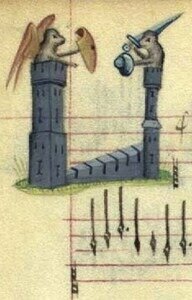 In another image, two monkeys fight over a snail, while incidentally forming the letter 'Q.' for the middle part of the Superius text for 'Garison sçay / Je suis mire' by an anonymous composer.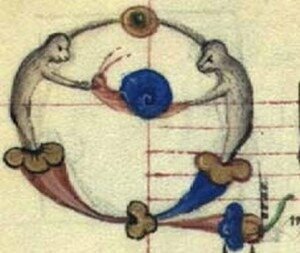 Snails attack the monkey's castle, incidentally forming the letter 'T' to show a Tenor part.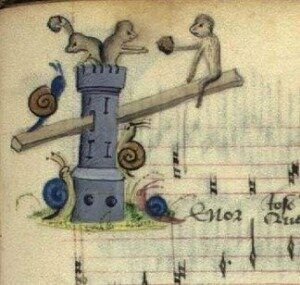 Here, a monkey holding an enormous dagger, chases a snail to form the letter "T" for "Tenor".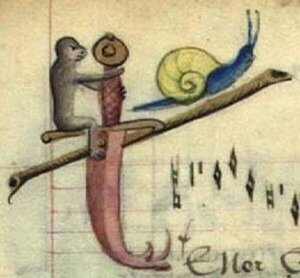 The Copenhagen Chansonnier, which has music by the leading composers of the day, including Busnoys and Ockeghem, included this work by Hayne van Ghizeghem. This popular chanson appeared in some 25 other manuscript and print sources over the next decades. The text is about love: "My mistress has such great merit that everyone owes her tribute of honor, for she is in virtue as perfect as ever was any goddess…."

Hayne van Ghizegham: De tous biens plaine est ma maistresse

To see the Copenhagen Chansonnier in its 15th century glory, see the facsimile here.