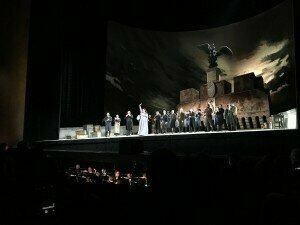 When the mighty Met does something well, it truly excels. The new production by Sir David McVicar was near perfection. Replacing the unmissed Luc Bondy production, McVicar delivered what seemed like a fresher version of a Zeffirelli view of the world. Lush period stage sets were brought alive through unusual angles, driving the action into traditionally unloved corners of the stage. Scarpia's office featured a massive working fireplace that thoughtfully extinguished as the ghastly trade is agreed between the head of the secret police and the diva. Even the small roles, chorus members and extras played meaningful parts in kissing this story alive, and offering up a Tosca that was thrilling, emotionally engaging and unforgettable.


The sole, though major, irritant was that the set (set and costumes by John Macfarlane) was elevated as a diagonally sliding platform, rising to well over a meter above the stage on the right side. The prompter's box accordingly stuck up like a chimney. While this incline might have created a dynamic visual effect for audience members sitting in the rafters, it cut visibility for patrons in the orchestra stalls – the most expensive seats in the house. This unnecessary gimmick moved many of the idiosyncratic McVicar details (e.g. the swording of the executed prisoner in the third act) out of the range of view of large parts of the audience. For the singers it would certainly also be uncomfortable to spend an entire performance on such an incline.
Russian uber-diva Anna Netrebko, giving her role debut technically as a second cast due to scheduling (she succeeded Sonya Yoncheva who replaced Kristine Opolais who had pulled out before rehearsals), was in perfect form. She threw herself into the character, believingly moving from playfully jealous lover, to a vulnerable woman forced to make a horrible choice, to end as a deceived and devastated victim of Scarpia's dastardly schemes. Her singing matched her acting, displaying confident warmth as well as vulnerability. Her voice soared with booming and all-enveloping richness, filling the furthest corners of this massively oversized house, then rapidly shifting to subtle, gently wafting and wafer-thin pianissimi. She showed off her vocal suppleness in a jaw-dropping
Vissi d'arte
which she rounded off with a luxuriant diminuendo.
She was well matched by her real-life husband Yusif Eyvazov (the second cast to Vittorio Grigolo who replaced Jonas Kaufmann who pulled out early in the scheduling) as Cavaradossi. The Azerbaijani tenor has by now disproved most doubters of his standalone skills and talent. Apart from a few nasal sounds, he displayed a voice of ferocious force, frequent beauty and astounding sensitivity, notably in the third act duet
O dolci mani
. It's a rare pleasure to hear a tenor attack a role with such abandon.
German baritone Michael Volle was not an obvious choice for Baron Scarpia (the second cast to Željko Lučić who in turn was a replacement for Bryn Terfel who pulled out some months earlier). A sensitive German baritone not naturally at home in verismo, Volle stole his scenes with precise singing and overpowering acting. His movements and gestures were so chiselled and precise, he would have proven an equally chilling Scarpia on the large silver screen.
Smaller roles were enthusiastically played by Patrick Carfizzi as a Sacristan and Christian Zaremba as Angelotti. Under McVicar, even Sciarrone (Christopher Job) became a fully painted character one felt one really knew and feared.
Bertrand de Billy (replacing the now scandal-ridden James Levine) led the finely tuned Met opera orchestra with speed and unfussed determination, leaving little to chance. The excellent Met chorus performed at its usual high standard.
The festive and responsive audience delighted in an evening where the enormous resources of the mighty Met came together so perfectly, in spite of the earlier casting roller-coaster. Tickets for Netrebko's Tosca were impossible to come by and priced to gouge. What a difference a superstar makes!
Performance attended: April 30, 2018