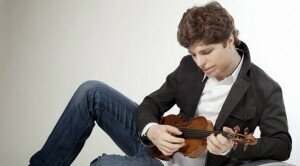 Violinist Augustin Hadelich recently performed a gorgeous rendition of the Beethoven Violin Concerto here in Minneapolis, with the Minnesota Orchestra. I was fortunate that he was able to spare the time to speak with me.

Can you tell us what you love about Beethoven's Violin Concerto and what the challenges are?
I've played the Beethoven concerto since I was 8 years old. It's a masterpiece I can never get enough of, no matter how many times I hear it and play it. The work is a major leap from any violin concerti previously written, (by Mozart, Haydn, Vivaldi). Its difficulty lies in its transparency. It's a perfect work and the listener is instantly aware of any impurities. I think the slow movement of this concerto is one of the most beautiful ever written—simple, intimate, and human.
The concerto received a mixed reception at its premiere. Beethoven had completed it a mere few days before the premier, and the soloist, Franz Clement, was mostly sight-reading it! Considering how hard it is to play the Beethoven, even after years of study, I shudder to imagine what it might have sounded like. To top it off, between movements, the violinist entertained the audience by playing tunes with the violin behind his back… and upside down!
The great 19th-century violinist Joseph Joachim championed the work, but due to objections from orchestras and audiences it took many years for anyone to program the piece. As violin technique developed over time, its challenges became easier to master and it is now one of the most beloved and frequently played works for violin.
How many different concerti do you typically have in your repertoire per season? And is this driven by the presenter or what you'd like to perform?
Deciding the repertoire for a concert is a conversation, which takes into account many factors, such as what the orchestra has programmed recently, what works are on the rest of the program, and what my schedule is around the time of the concert. I enjoy performing a wide variety of repertoire, and find the contrast between the styles of the composers very stimulating and refreshing! Over the past year, I performed Beethoven, Mendelssohn, Tchaikovsky, Dvořák, Sibelius, Bartók's Second Concerto, Haydn, Berg, Brahms, Shostakovich, and Barber, as well as Bernstein's Serenade, and Britten, Dutilleux, Ligeti and Adès concertos!
Sibelius: Violin Concerto in D Minor, Op. 47: I. Allegro moderato
Wow! And you recently won the best classical instrumental solo for your recording of the latter concerti. Are there violin works that have been written for you?
In 2014, the composer David Lang wrote a monumental solo violin work for me, "mystery sonatas". A recording of it will be released later this year, on the Cantaloupe Music label. With most contemporary music I play, the ink is already dry by the time I see the music, so it was very exciting and different to work with a composer during the creation of a piece!
Adès: Violin Concerto, Op. 23, "Concentric Paths": I. Rings
Can you describe your approach to learning a new work?
When I learn a new piece, it's essential to become fluent in the language of the composer, which means studying the score a lot, especially if it's the first piece I'm learning by that particular composer. It's at least as big a part of the process as the practice on the instrument! Once I am fluent in that language, it does not feel stranger or less familiar than playing Beethoven or Mozart.
Generally, rehearsal time with an orchestra is quite limited, even for unfamiliar works, so it's important to walk into the rehearsal with a clear plan, to be very prepared, and think on your feet. A big factor is how much other music by that composer the orchestra has played in the past. Seattle Symphony and Ludovic Morlot, with whom I recorded the Dutilleux, were extremely familiar with and fluent in Dutilleux's musical language, which made things easier for me.
You are represented by Schmidt Artists International who believe that classical music is vital to the human spirit. Their select roster of musicians are chosen for their commitment to, understanding of, and broadening of knowledge of the music of our time.
Music is vital to the human spirit! It's essential to play music written today and not live only in the past. That being said, in any era of music history, the majority of music written isn't great, and our time is not an exception. As time passes, it's as if a fog lifts, and gradually it becomes clear what the great, enduring works of art are. But playing new music isn't enough. Performers have a responsibility to search for and discover the best and most exciting new works, and to play them as often as possible—even if the piece doesn't happen to be a flashy premiere, or a work by a well-known composer. Robert Schumann (who was a new-music advocate in the 19th century) emphasized the role of performers: finding great works and promoting them.
Paganini: Caprice No. 11
You have collaborated with an impressive roster of great artists in chamber music. How does your enjoyment differ for you from concerto appearances?
The best thing about being a violinist is most of the time it's not a solitary activity. Collaboration with others always keeps things interesting and fresh!
I didn't have the opportunity to play much chamber music growing up, because I come from a musically remote place in Tuscany. Chamber music was a huge discovery for me after I moved to New York as a student. I became quite obsessed! Chamber music at Juilliard and my summers at the Marlboro Festival 2006-2008 really changed my musical outlook. While most great composers wrote only one violin concerto, they often wrote many chamber works. Getting to know the amazing chamber music of Beethoven, Brahms, Mendelssohn, Dvořák, Bartók, etc. was a revelation. I played their concertos very differently afterward.
I love playing with big orchestras in grand halls in front of large audiences, because it's such an adrenaline rush! In chamber music and recitals, I can explore the softer dynamics and more subtle nuances, and feel the more intimate involvement of the audience. In terms of communication with the other musicians though, I actually find little difference between how I communicate with other musicians in a concerto and in chamber music. There is no concerto that does not require the soloist to listen intently and interact closely with the orchestra throughout. The greatest concertos like Beethoven, Brahms, and Berg are symphonic. The violin follows the orchestra most of the time, not the other way around. Only this way does the piece come to life in all its detail. These composers saw the role of the violin not as a diva, but rather as one voice engaged in conversation, struggle, dance, and song with all the others.
Franck : Sonata 1st movement (with Joyce Yang)
You won the Indianapolis Violin Competition. Do you think competitions are a "necessary evil?" Would you advise young players to attempt them?
Winning the Gold Medal at the Indianapolis Competition was a huge breakthrough for me. Now more than ever, it's hard to distinguish yourself from the pack. In a crowded field, it has become very difficult to find people who will give you those first opportunities.
The IVCI opened doors for me, at exactly the right time in my life but winning a competition doesn't make a career. The real test is whether after the winner's concerts are over, one is invited back. If orchestras invite you back, or if a conductor takes you under their wing and invites you to play with them in other cities, then your career may develop. This is even more difficult than getting the first invitation for a debut. The pressure never lets up. Not even after 10 years. Although luck plays a role, your persistence, resilience, and your organization will ultimately help you get to the point when you can play regularly with great orchestras.
What sustains your love of playing when the going gets rough?
Whenever I've had a tough time in the past, concerts by great artists gave me new inspiration and motivation. Despite the fact that practicing can often feel like very hard work, it's important to remember why we make music, and not lose sight of what we love about it.
Ysaÿe Sonata 3: Ballade