Opéra National de Paris
at the Bastille still looks like a second-tier suburban cinemaplex and the audience looks accordingly. Opening night has no dress code, no glamour, no pomp. I spotted a jeans-clad woman vaping unhurriedly at the bar, right under McDonalds style menu screens featuring the food and beverage choices: champagne,
bien sûr
and overpriced military grade sandwiches in cheap plastic wrapping. No sense of importance in the lobby whatsoever. But this was an important evening.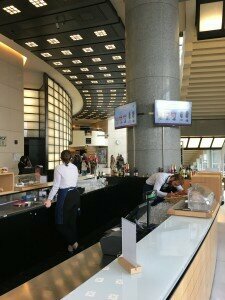 This was the first time since 1936 that Paris put on
Giacomo Meyerbeer
's
Les Huguenots
, the quintessentially French
grand opera
. While a popular and influential work since its world premiere in 1836, the enormity of the work, the five-act four-hour plus dimension, and the difficulty of casting make it a challenge for any opera company. But the Opéra National de Paris, recently reinvigorated by Director General Stéphane Lissner, valiantly stepped up to the plate and successfully dealt with the challenges. The first was the casting.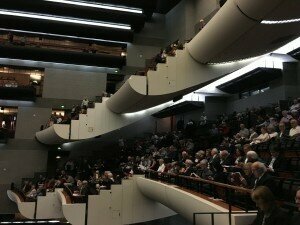 German diva
Diana Damrau
, a key draw in the line-up, pulled out as Queen Marguerite de Valois. Leading American tenor
Bryan Hymel
also needed to be replaced as the Huguenot romantic lead Raoul de Nangis.
Damrau's replacement,
Lisette Oropesa
, proved a fortuitous move. The American coloratura delivered a resounding triumph. Her astonishing vocal agility spellbound the audience from her opening "O beau pays de la Touraine" where she displayed effortless trills, messa di voce and solid squillos. Her considerable acting skills brought warmth and humour to the nearly comical first half of the opera, which then takes a dramatic turn towards the sinister and violent as the massacre of Saint Bartholomew's Day is planned.
Les Huguenots by Giacomo Meyerbeer (Lisette Oropesa)
Valentine, the Queen's lady-in-waiting and love interest of the Protestant Raoul de Nangis, was portrayed by the fast-rising Albanian star Ermonela Jaho. Her tender yet powerful soprano packs all the strength, flexibility and charm needed for this role.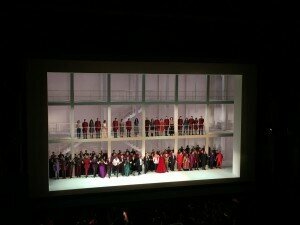 Karine Deshayes sparkled as Urbain, page of the Queen. She's a dark mezzo-soprano we should hear much more often outside France.

Last-minute cast Korean tenor Yosep Kang possesses the heft for the middle range of the demanding role of Raoul, but his first act romance "Plus blanche que la blanche hermine" presaged the difficulties he was going to have with the extreme heights the score demands. His top notes were strangled and often unpleasant, reportedly more a result of lack of rest than of miscasting.



The lower register males fared better.

Paul Gay

delivered a vocally stunning and dramatically convincing Count of Saint-Bris, the Catholic firebrand and father of Valentine. In his religious corner was the young French baritone

Florian Sempey

, who brought youthful energy to the role of Count of Nevers who places friendship above religious fanaticism.

Nicolas Testé

deployed his sonorous baritone as the fundamentalist Huguenot servant Marcel, though he remained a bit stiff for the character.

The very large chorus (

José Luis Basso

) of Opéra National de Paris was possibly a touch loud, very clear and boasted perfect diction.

Casting

Michele Mariotti

, one of the most exciting young Italian conductors and a specialist of

bel canto

, was as inspired as it was risky. He deftly handled the challenges of the score and he gave the work the necessary brio to keep it tense and interesting. Not being a Frenchman, rather than the rare orchestral soloist derailing, was probably the true reason for the isolated cries of disapproval from one corner of the audience. Mariotti again proved himself an enormously talented and elegant conductor.

Lissner was clearly also making a statement by hiring veteran German director

Andreas Kriegenburg

. Setting this

Huguenots

in a futuristic 2063 with stark and white-lit scenery (sets by Harald Thor) matched with period costumes (Tanja Hofmann), Kriegenburg made it at once timelessly relevant – the commentary on current religious extremism and intolerance was unmissable – as well as fresh and invigorating. The first act party scene waiters switching to virtual overdrive as the tension rises, the tenderness of the bare-chested beauties bathing in real water in the queen's gardens, and the stylized yet shocking fifth act massacre were just some of the hallmark touches we come to expect from activist German directors.

My belief in French glamour was quickly restored in the after-show cast party, held on the cavernous Bastille back stage. Stars, sponsors, press and visitors mingled with free-flowing champagne, high-end hors d'oeuvres and more than a tip of the hat to French

savoir vivre

.

Performance attended: 28 September 2018

Paris does glamour better than anyone. But clearly not at the opera. The