The amount of music that has been lost and found again or sometimes lost and not found again seems to be a continuing thread through the centuries. Scores are used to start the fires by ungrateful spouses or inattentive domestic staff, and then there's the train. Lost but not found was English composer Herbert Howell's String Quartet No. 3. Completed in 1916, it was left on a train and never found. A second version (written 1919/1920) was lost and only found in the 1960s, a third set was found in the Royal College of Music library but it was incomplete, and a fourth complete set of score and parts was finally preserved for the ages, also in the RCM library.
Luckily, Howells (1892-1983) was a composer who wrote and rewrote and revised and reedited and so he could recreate his work. Titled 'In Gloucestershire,' the work captures in sound the feelings that Howell had when he would go walking through Gloucestershire with his friend, the composer and poet Ivor Gurney (1890-1937).
Gurney and Howells met when they were both choristers at Gloucester Cathedral and they remained lifelong friends. Both went on to study at the Royal College of Music and while Howells flourished at the conservatory, their teacher, Charles Villiers Stanford, considered Gurney to be the brighter talent, but 'unteachable.' When WWI came, in 1915 Gurney went off to war and Howells was diagnosed with a fatal thyroid disease and given 6 months to live. He survived as did Gurney, who had been wounded in 1917 and then gassed later that year.
Howells remained in Gloucestershire and started work assisting R. R. Terry in editing a multi-volume series for Oxford University Press on Tudor Church Music. He was also appointed to the faculty of the Royal College of Music where he remained for the next 60 years.
Howells and Gurney's walks in the areas around Gloucester, which would often involve them disappearing for days at a time, were being remembered by Howells at a time of war – everything was in an uproar and he wanted to capture his idyllic past. Some part of the string quartet, notably the first movement, have a nostalgic and folk-music feel.
Howells: String Quartet No. 3, In Gloucestershire: I. With easy and flexible movement
The second movement was compared by Gurney to 'a great spring wind blowing the hair of the exultant traveller wandering without purpose save to find beauty and be comrade with the wind.'
II. Fairly quick but always rhythmical

Later in the quartet, the third movement is one of real emotion. One writer found parallels with Gurney's own poems on his experiences in the Great War. Gurney overlaid images of the Cotswolds on the French countryside, and so, too, in Howells, too sick to be a soldier but just as aware of landscape as the 'cosmically indifferent background to slaughter.' The direction, 'Slow in pace, with much feeling,' goes far to place in the world of two 20-year-olds fiercely arguing the world with each other, but coming to an uneasy agreement at the end. Or is it a representation of the world of the war?
III. Slow in pace, with much feeling
Since so much of Howell's music that is known are his organ works, this string quartet is a welcome addition. The Dante Quartet, playing on this performance, has been specializing in their last few recordings of the lesser known chamber music of some of England's finest composers, including this recording of Howells' music and two earlier recordings of chamber music by his teacher Stanford.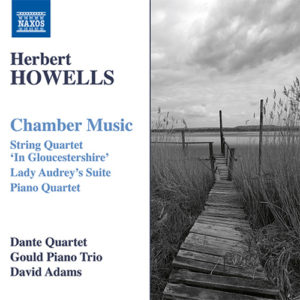 Herbert Howells:
Chamber Music – String Quartet No. 3 / Piano Quartet / Lady Audrey's Suite

Performed by
Dante Quartet
David Adams
Gould Piano Trio

Official Website