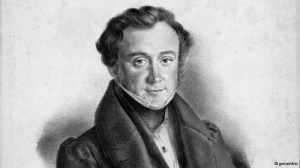 In 2016 we remember the 150th anniversary of the passing of Johann Baptist Wenzel Kalliwoda. Remember might be a somewhat misleading word, as the 20th century never managed to acknowledge his contributions to music. Interest in the composer was reawakened only a couple of years ago when the Talich Quartet released a recording of three Kalliwoda string quartets. Praised as "truly sensational discoveries of 2006," it focused attention on a composer who had made his memorable debut on 19 January 1826 in Leipzig. Barely 25 years of age and practically unknown, Kalliwoda's became an overnight sensation with his unique take on the symphonic genre. He did not try to emulate the style and expressive force of Beethoven, and critics gave him credit for "pursuing his own path simply and properly, without studiously trying to be something he is not." His music was disburdened of Beethoven's monumentality while standing on the cutting edge of its day. Kalliwoda has rightfully been described as the "missing symphonic link between Beethoven and Schumann."

Johann Baptist Wenzel Kalliwoda: Symphony No. 5 in B-minor, Op. 106
Kalliwoda originally hailed from Prague, and he was a member of the first class at the Prague conservatory. Described as a "superb soloist on the violin," and possessing "excellent abilities in composition," Kalliwoda played in the Prague Theatre orchestra under the direction of Carl Maria von Weber. While Weber was head-over-heels in love with the famed actress Therese Brunetti, Kalliwoda had his heart set on her daughter Therese Brunetti the Younger, one of the leading prima donnas of her day. She became Kalliwoda's wife in October 1822, and their son Wilhelm became a notable pianist and conductor. Together with his soon-to-be wife, Kalliwoda embarked on various concert tours of Germany, Holland and Switzerland and he was eventually hired by Prince Karl Egon II of Fürstenberg to conduct the prince's orchestra in Donaueschingen. By the time of his retirement, Kalliwoda had remained loyally bound to the court for 44 years.

Kalliwoda left us about 250 works or sets of works with opus numbers, and Robert Schumann excitedly wrote, "what a pleasure Kalliwoda's fifth symphony afforded us; it is a peculiar one, and in respect of tenderness and charm, which it displays from beginning to end, quite unique in the symphonic world…This symphony, especially in its instrumentation, betrays the highly progressive master, and lead us into one of those rarely entered regions of the imagination. The four movements accord so perfectly with each other, that they seem to have been created in a single day; and the symphony is full of artistic, finely worked out details, which the master seems to have half connected from the ear, that the eye might first become fully aware of them." If this symphony is to your liking, why not explore Kalliwoda's 24 concert overtures, and a great many concertante works for one or more solo instruments and orchestra. His extensive catalogue of church music, including ten Masses, four Requiems and six Te Deums remains largely unpublished, and his opera Blanda was staged in 1847. He also composed a number of interesting chamber- and piano works and wrote well over 100 songs.