Young British pianist Andrew Garrido taught himself how to play the piano using a homemade paper keyboard because his mother couldn't afford piano lessons for him. Now he is studying at London's Guildhall School of Music and Drama, and performs internationally.
What inspired you to take up piano and pursue a career in music?
In an odd way, music itself. I was eleven, still at primary school, when I wanted to explore some extra-curricular interests, something to call my own, and I was drawn to the piano in the corner of the assembly hall that one of the teachers used to play to lead us in songs. In addition, a couple of my close friends took piano lessons, so it felt like a natural course for me to take. I asked my mum if I could start piano lessons at school, but she reluctantly said no, having just been made redundant from her job as a result of the financial crisis.
I decided to get creative, so I drew a keyboard onto some pieces of paper, and I began to follow music theory lessons online; I started cross-referencing the sounds of notes, scales, and chords with the visual patterns on my paper, until I could begin to hear those sounds in my head, when I could then pick out some easy pieces. I found the internet was an invaluable resource when it came to understanding how music worked, but it was also my first introduction to classical music. I didn't come from a musical family at all, and the only classical music I heard was the odd offering from an advert, so when I discovered such a vast selection of music, across Bach, Debussy, and Rachmaninoff to name some of my favourites at the time, I resolved then to play those pieces myself; I'm proud that I've ticked off a few, but I'm still working my way through the list!
I worked like this on my own for six months, until my mum managed to raise enough money from friends to pay for my first piano lessons at school. I would pass my Grade 1 exam with Distinction after only four hours of tuition, practising at home still on my paper keyboard; the excitement of performing, even if only to the examiner, encouraged me never to look back. I have tried to retain that childlike curiosity and delight as I continue to work through my repertoire now.
What have been the greatest challenges of your career so far?
I came quite late to the piano, so there was a lot of catching up I needed to do if I were to realise my ambitions of a career in performance. I spent the much of my teens scrambling for opportunities to practise on real pianos. I would wake up at 5:30 in the morning to ensure I got to school by 7am, when the gates opened, as the Head of Music there allowed me to practise on the school's grand piano whenever it was not in use. I would fit in about an hour and a half's worth of practice in the morning, followed by the total time of another hour of my mid-morning break and lunch, and another long stretch after school, normally until the caretaker kicked me out. I would get home for dinner, but I would rarely get to sleep before 1am, due to work I had to do for both my school commitments and mental practice… and added to all this, I was continually bullied by my father, who refused to support my musical efforts. I don't think I've been pushed quite so physically or mentally since the three years I followed that daily routine.
Who have been the most important influences on your musical life and career?
I have had a news article about Lucas Debargue on my wall for several years, whose story renews my spirits when things get tough. I am grateful for the encouragement and advice of my piano teachers, particularly Soojin Kim, who encouraged me as I first turned my attention towards a career in music, and Charles Owen, my current piano teacher at the Guildhall School of Music and Drama, who inspires me every week. I must also thank the Head of Music at my secondary school, Johanna Martin, and William Fong and Mary-Kate Gill at the Purcell School, for all their guidance and support. I am forever thankful, though, for my mum, whose love and belief in me has helped me every step of the way.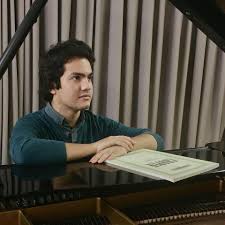 Which performance are you most proud of?
I was awarded the opportunity in my second and final year at the Purcell School to perform at the Milton Court Concert Hall at Guildhall, where I performed Berg's Sonata Op. 1. I relished the musical, mental, and emotional challenges of such an incredible piece — I had to learn to look at music in very different ways — and it felt like a culmination of everything I achieved there. I've enjoyed more performances of the work since, and I think back to that concert every time I play it.
Which particular works do you think you play best?
I doubt I'll ever figure that one out, but I'm happy to spend my life trying.
How do you make your repertoire choices from season to season?
I always look for something that will push me towards greater playing; after all, what is a musician without the curiosity to learn? I like to include a mix of repertoire favourites with less familiar works, which I hope leaves the audience with two interesting experiences: hearing the classics in new and different contexts, and discovering music within the wider history of the musical catalogue. I like to incorporate a single unifying thread into my recital programmes too, although I don't always share exactly what that is!
Do you have a favourite concert venue to perform in and why?
Milton Court and St John's Smith Square in London, and the Fazioli Concert Hall in Italy are among my favourites. I've had some really lovely experiences at several other venues, however, simply because the people there were so caring and welcoming, which makes all the difference as the nerves begin to set in.
Who are your favourite musicians?
There are far too many! I'll have to mention Alfred Brendel, Martha Argerich, Robert Levin, Pierre-Laurent Aimard, Claudio Abbado, Mariss Jansons, Dame Janet Baker, Diana Damrau… I'm afraid this list could go on quite a bit longer!
What is your most memorable concert experience?
I was once asked to play a short recital as part of an outdoor arts festival. I took to the stage, and as I sat down to play Bach, a young boy at the front shouted "Beethoven!", so I played Beethoven for him instead. I ended up taking requests from the audience for the whole recital as they shouted out the names of different composers after each piece. I never got to play any Bach, but I did get a taste of the 'rock star' life, or at least as close as I can expect to get!
As a musician, what is your definition of success?
As a human, to be happy. As a musician, to be human.
What do you consider to be the most important ideas and concepts to impart to aspiring musicians?
Listen, in every sense; I can't begin to explain how important that is.
I've found you can't just wait to be inspired, rather you need to find inspiration from within, and that comes from the love of music; if you find new ways to love music, you'll find new ways to be inspired.
Finally, another item from my bedroom wall:
"I was obliged to be industrious. Whoever is equally industrious will succeed equally well…"
— Johann Sebastian Bach
Where would you like to be in 10 years' time?
If all goes well, at the piano.