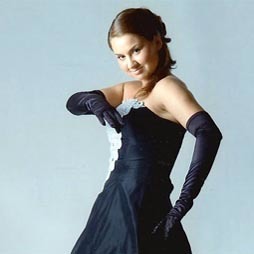 It seems that every rising star has a mentor; like cellist Han-na Chang, the Croatian soprano Lana Kos was inspired by Mstislav Rostropovich. The late maestro chose Kos for the role of Natasha Rostova in Prokofiev's War and Peace in the Bolshoi Theatre in Moscow. Since then, she has been working with world-renowned conductors like Kent Nagano, Kiril Petrenko and Fabio Luisi. She was awarded with the prestigious Croatian Theatrical Award in 2010, with her performance in Donizetti's Lucia di Lammermoor in her home country. However, it was with Violetta in Verdi's La Traviata that she won international acclaim. This role also brings her to Asia: to the Guangzhou Opera House in September 2013 and to Tokyo in 2015. Here, Lana Kos, talks not only of the two influential personalities – Rostropovich and Violetta, but also her passion for languages, her fitness routine and countries which colored her life.

LK: Lana Kos
JL: Jenny Lee

JL: Violetta seems to be the role with which your career took off, first in 2009 in the Opera of the Slovenian National Theatre, then in 2011 in Verona Arena under Carlo Rizzi. How do you see this heroine?

LK: Indeed Violetta is the most important role in my career. I'm just finishing four performances which I'm singing in Arena di Verona for the two hundred years of the birth of Giuseppe Verdi. It is also very peculiar that my premiere in Arena on the 22th of June was the hundred performance of La Traviata in the history of Arena. I'm fascinated by the story of Violetta; her difficulties to survive in the 19th century. The role of Violetta has a very important development for a singing-actress! A very important psychological development! The death of Violetta is a great dramaturgical example of morality. It is a really complete role, for an actress, and for a singer.

JL: Would you tell us about your time with Mstislav Rostropovich, who chose you in Prokofiev's War and Peace in the Bolshoi Theatre? What did you learn from the Maestro?

LK: Maestro Rostropovich was for me a great musician and a great person. He helped me very much at the beginning of my career. It is for me a big honor to have met and worked for him. In fact, I worked with Maestro Rostropovich for one year with immense pleasure and I even had a chance, through the work with him and his wife the great soprano Galina Vischnievskaya, to learn Russian.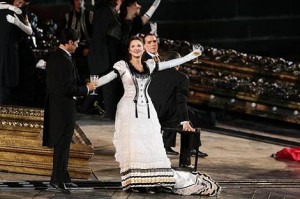 JL: What is the greatest challenge for you as a singer?

LK: I think the greatest challenge is to stay humble. Only with your feet very fixed on the earth, you can then develop yourself into a serious and professional artist, even if you are a star.

JL: You are fluent in English, German, Russian, Italian and Croatian. How and when did you learn all these languages?

LK: I always love to learn the languages of some of the most important operas and composers, and even in my little Croatia we have very interesting operas and composers.

JL: Do you have a fitness routine?

LK: Of course I do! Jogging, walking and swimming.

JL: Which countries have inspired you or colored your life?

LK: My favorite countries are of course Croatia, Italy, France, Russia, and Germany. And after I sang Desdemona of Verdi's Otello in the NCPA in Beijing, I had a chance to visit a part of China, which deeply impressed me.

Lana Kos will be performing La Traviata at the GOH from 27 to 29 September, 2013.

Official Website

La Traviata – E' strano… Sempre libera