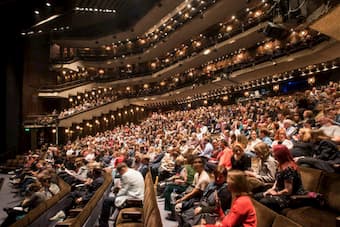 We missed our audiences in the year of pandemic and when they returned, they were sparser than usual due to social distancing. But they are coming back to the concert halls and opera houses, their appetite for live music apparently undimmed.
Audiences make concerts complete: without an audience musicians are playing into a void, and despite their best efforts during the pandemic, when playing to an empty hall became the norm, to see a concert venue like Wigmore Hall in London devoid of an audience was a sad sight. A full hall has a different acoustic; audiences also create atmosphere and a sense of occasion but, more importantly, they support artists and venues – not just through ticket revenue and other spending, but simply by being there.
Antonín Dvořák: String Quartet No. 12 in F Major, Op. 96, B. 179, "American" – IV. Finale: Vivace ma non troppo (Albion Quartet)

Contrary to popular opinion of those who don't engage with classical music, concert audiences are, in general, not stuffy or elite, highbrow or wealthy. They are simply people who really enjoy music. We also do them a disservice by lumping them together as "the audience". The audience is in fact many individual personalities, who come together on a given date to enjoy the thrill of live music and the shared experience of a concert or opera performance. And while the audience may act collectively, in the giving of applause or in those moments of intense concentration when it seems as if everyone is breathing together, each individual audience member will take away something unique and personal to them from the performance.
Marketing people and promoters are very keen on attracting "new audiences" to classical music, especially young people. There has been an increase in listening by a younger demographic during the pandemic, probably because of the ease of access to classical music via platforms with which they are most familiar – YouTube and streaming services for example – but whether these listeners will translate into new audiences remains to be seen. Attempts to attract younger listeners often fall flat because they may appear patronising or try to "trendify" classical music in a way which insults young people's intelligence.
Of course we should try to attract new, younger audiences to classical music, but we should not do so at the expense of making our older audiences feel less welcome or valued.
It is important to nurture and value the audiences we already have; unfortunately, the demographic of most concert-goers is not particularly exciting to marketing people, yet we must not ignore them for they are the mainstay of our concerts. They are people with the time, and the money, to spend on concert-going, and they are often highly committed, enthusiastic and supportive.
For more of the best in classical music, sign up to our E-Newsletter