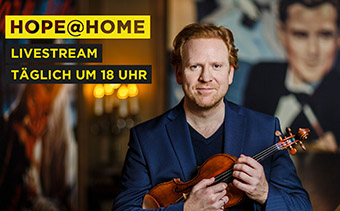 Playing chamber music has always been a great joy. Now more than ever, chamber music has become the essential genre for musicians. During these challenging times, while we avoid large gatherings, musicians have realized we must re-imagine concerts and performing. Large orchestral performances, even without audiences, are not feasible for the foreseeable future. Chamber music is likely the first playing musicians will be able to do in public, while maintaining a distance.
I've already seen successful attempts! The wonderful violinist Daniel Hope has organized
Hope @Home concerts from his living room in Berlin, and a series Hope@Home on Tour through Arte. Often joined by other artists, including artists from different genres such as singer/song-writer Colin Rich, the music choices are marvelous. He's even played on the mountain tops of the Alps.
Arte Concerts: Saturdays and Sundays at 6pmCET 12 noon EDT
Our friend Neeta Helms, president of Classical Movements, who we've featured in a previous article, presented several one-hour programs recently—outside, in a beautiful courtyard full of flowers in Washington. "Sounds of Hope and Harmony" took place at the 1785 Rectory on Princess Street. Little flags marked the spot where each audience member was to stand at a distance. Everyone wore masks except the twenty-eight musicians who performed three concerts, for a total of 100 audience members. They featured brass ensembles, a woodwind quintet, and a string quintet. It was manna from heaven for everyone involved.
But we don't all have the resources to get fancy. Several colleagues have been regularly presenting driveway and rooftop concerts for their neighbors—short programs for the musicians to work towards and something to look forward to for the neighborhood like my friend Sarah Lewis from the St Paul Chamber Orchestra. Even Yo Yo Ma used his iPhone to record some music—not high-tech, which was the catalyst behind his series called #SongsOfComfort . His motto: collaboration is the key to human interaction.
Besides being able to ditch the conductor and call our own shots, what makes chamber music unique? Chamber music is usually written with one instrument on each part, and was intended to be played in intimate settings—in parlors, in living rooms, in small halls. Chamber music is all about collaboration.
Composers wrote some of their most exquisite and remarkable music for small groups, for two to a dozen instruments. My favorites immediately spring to mind—Beethoven's string quartets, Schubert Quintet for Two Cellos, the Elgar and Brahms Piano Quintets, Ravel Trio, Kodály Duo for violin and cello, and so many more.
It's essential first to hone our ensemble skills. Working in a chamber music group teaches us good communication skills and proper etiquette. Before you embark, remember, the following behaviors will annoy your colleagues.
Tuning your instrument for a l-o-n-g time.
Turning your pages s-l-o-w-l-y.
Slowing down because you didn't practice a difficult passage.
Speeding up when you have half notes in your part, while the others struggle with fast thirty-second notes.
Stopping at every repeat sign to discuss at length whether to take the repeat or not.
Playing the right notes but at the wrong time.
Continuing with notes you have left when everyone else has finished.
Stopping the group when you've miscounted and you say, "We need to tune." (That's a well-known diversionary tactic favored by conductors when they get lost!)
Stopping often to discuss interpretation. BLAH blah blah…
It's easy to offend your chamber music partners if you make comments, which might be interpreted as insulting.
Instead of saying, "You played so out of tune." Say, "What a wonderful use of microtones."
Or better yet, "this passage sounded off. Can we try it once again a bit slower for intonation?"
Instead of saying, "You just played a bunch of wrong notes!" say, "Lovely cadenza there."
Or better yet, "We didn't play this passage very accurately. Can we try it again to make certain we're all playing the notes the composer intended?"
Instead of saying, "You were rushing!" say, "I enjoyed the nice swing rhythm you played."
Or better yet, "Can we try this section once with a metronome to check the tempo and steadiness?
Instead of saying, "Those sure are strange fingerings and bowings you're doing there!" say, "Lovely experimental technique."
Or better yet, "I wonder if this passage would sound more cohesive if we all played the same fingerings, and bowings."
Instead of saying, "Ouch! You played a wrong note!" Say, "You played that with authority. Nice interpretation."
Or better yet, "I'm not certain we're in the same place. Can we try that again from letter B?"
Even though we rehearse long hours to attain a level of competence in a chamber music group, the goal is to be able to be expressive and responsive to each other, and also spontaneous—we might compare our interaction to telepathy or intuition. Instead of talking too much, consider that communication in a chamber ensemble requires you to express your intentions through body language, breathing together, each of you leading the interpretation of the music. The aim is to discover a cohesive sound and a unified approach to the music you are playing.
There are many benefits to playing chamber music. When you play in a small ensemble you'll improve your reading skills, listening skills, social and communication skills, fine motor skills, confidence, discipline, and memory.
And it's much more fun than playing alone. When a small group plays with a unity of purpose and expression it's quite exhilarating, and the audience feels that. Moreover, the audience, more up-close-and-personal, is able to engage with the performers (even distanced as we are now), with more intimacy than in a large concert hall. Chamber music, I believe, is our conduit to returning to the world of live performing again.