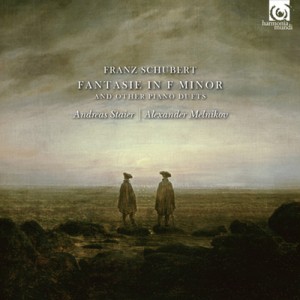 Polonaise op.61 no. 1, D.824 D minor
From Franz Schubert: Fantasie in F Minor and other Piano Duets (2017)
Released by Harmonia Mundi
Schubert: Polonaise op.61 no. 1, D.824 D minor

Four hands, one heart.
'In Upper Austria, I find my compositions everywhere, especially in the monasteries of Sankt Florian and Kremsmünster, where with the help of a decent pianist I performed my four-hand variations and marches with great success.' So wrote Franz Schubert in 1825, evoking the popular nineteenth-century genre that publishers were always pestering him to write. But the Viennese composer went much further than the traditional German dances and sets of variations, as is shown by the overwhelming Fantasie in F minor, one of the tragic masterpieces of his last year.