Wanda Landowska
of the Viola da Gamba."
It was quite an achievement to be accepted to study with Hugo Becker, at the Berlin State Academy of Music, in 1922 when she was only fifteen. Berlin was a mecca for music-making and he was one of the leading cello teachers in Europe at the time. Eva often heard the greatest artists in concerts with the Berlin Philharmonic or at the State Opera or, since her father was an avid amateur pianist, chamber music in her own living room on their beautiful Steinway grand piano.
Eva was an unusually curious and strong-willed musician, and she rejected some of Becker's ideas. He was too dogmatic for her. Heinitz explored her own way of playing, which included teaching herself how to play the viola da gamba (or bass viol), becoming one of the first professional gambists. At the time, the early music field was in its infancy. "Nobody played gamba in those days and so there were no teachers." Heinitz experimented even with how to hold the bow, and the instrument, which tended to slip when she grasped it with her knees. She finally had an endpin put in her instrument.
Heinitz began touring with both the cello and the gamba, one of very few performers to do so, and performed in Bach's St. John Passion and St. Matthew Passion with Wilhelm Furtwangler and Otto Klemperer, two of the greatest maestros of the day. When the Nazis came to power in Germany, Eva, who was half Jewish, was suddenly in jeopardy. After the death of her mother, Eva fled to Paris, and became a refugee. She took some lessons with a former pupil of Casals, Diran Alexanian, but lived in fear and in poverty. Fortunately for Eva, in 1939, the famous pianist
Artur Schnabel
, who had heard her perform in Berlin, asked Eva to join the "New Friends of Music," a series at Town Hall, in New York. The invitation was a way out of Europe.
Eva was hired by Fritz Reiner, the demanding Hungarian conductor, as assistant principal cello of the Pittsburgh Symphony. During an interview with Tim Janof for the Internet Cello Society, Heinitz describes the challenges, "He was a very difficult man…I understood him, musically speaking, better than anybody in the orchestra. He was a great musician… but he would never allow me to be the principal cellist, since I was a woman, which he told me quite clearly. We had a huge fight about this and I decided to leave the orchestra. He literally begged me to stay, but I wouldn't. I've lost at least four positions in my career because I was a woman."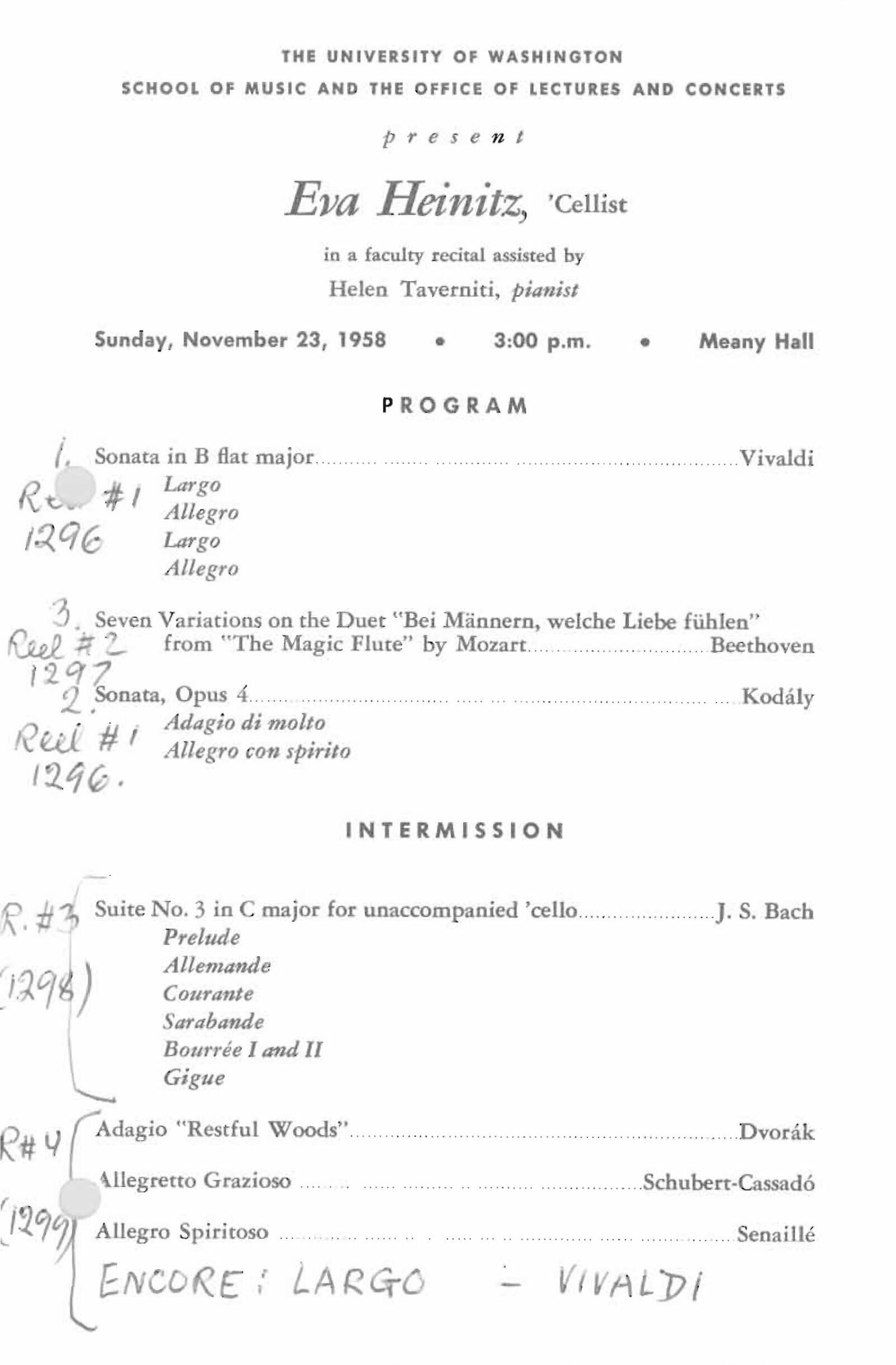 In 1948, virtually penniless, she made her way to Seattle to join the University of Washington Faculty Quartet. Once they heard her, they hired Eva to teach cello, a position she held for almost three decades. Motivated to perform, and to hold masterclasses, she also sought to establish an early music tradition, and founded UW's Collegium Musicum ensemble. Her recital programs included both the cello and the viola da gamba—an extremely difficult switch to make. Unlike the cello, with 4 strings tuned in fifths, the gamba has 6 strings, and is tuned like a lute. The gamba has a flat bridge, a much wider fingerboard, and a palm upward bow-hold. One of her recital programs from 1958 included Vivaldi, Beethoven, and the very difficult, Kodály Solo Sonata on the first half, and after intermission, the Bach Solo Suite No. 3 in C major, and works of Dvořák, Cassadó and Senaillé. Evidently, she alternated instruments. Astonishing!

Disque 1 : 5e piece de clavecin en concert : La Forqueray, La Cupis, La Marais Face B : Cinquième pièce de clavecin en concert : La Cupis, La Marais / Jean-Philippe Rameau, comp. ; Jean Pasquier, vl ; Eva Heinitz, viole de gambe ; Pauline Aubert, clav.

Eva had to entreat several friends to help her purchase a cello she had fallen in love with—a magnificent 1700 Matteo Goffriller. Her equally exquisite 1683 ornately carved bass viol is in the

orpheon.org

collection. It is now played by José Vázquez who told me, "It is a great privilege to be in possession of that beautiful bass viol by Joachim Tielke, (previously owned by Christian Döbereiner, another great and forgotten cellist.) Eva Heinitz was an intelligent interpreter, and informed. As she learned more about the instrument and performance practice, her style and approach developed. She expanded its capabilities during her long life." Determined to increase the repertoire for the instrument, she spent many hours haunting obscure libraries wherever she traveled, unearthing music that had been unplayed for decades.

Heinitz played with impeccable intonation and brilliance, and was an exponent of a fluid, free, bow arm. Each bow stroke had finesse. Pamela Roberts, a former student said, "Eva hated it when string players 'sawed their bows back and forth' as if they were chopping wood." An outspoken critic, Eva could be bitingly sarcastic in lessons, "Why do they play it so slowly? You have to take a bus from one note to the next!"

In 1991, Heinitz was honored as the "Grande Dame du Violoncelle" for her "significant contributions" to both cello and viola da gamba. "She was one of the great artists of our time," said Starker. "Eva was an absolutely uncompromising musician." Presented by

Janos Starker

at the Eva Janzer Memorial Concerts, at Indiana University Jacobs School of Music, the award recognizes cellists who has made a noteworthy impact on cello playing and teaching.

In 1994, after a decades-long career, she donated her Gofriller cello, and two bows—a valuable Donimique Peccatte and a Nurenberger—to Indiana University. The proceeds fund a scholarship in her name. "I want to help young cellists. I've had a full, rich life, and achieved almost everything I wanted. Now it's time for this wonderful instrument to go on."

She passed away in 2001.

Eva Heinitz, viole de gambe: Marin Marais, Prélude en re mineur

Eva Heinitz, cello soloist of international repute, who performed chamber music with violinists, Heifetz, Menuhin, Milstein, Szigeti, and Stern, was an exceptional teacher before she became known as "The