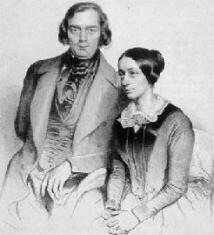 Robert Schumann composed in intense spurts of creative hyperactivity, generally focusing on a single genre. When he locked himself into his Düsseldorf study in October 1851, Clara Schumann excitedly reported in her diary. "Robert is working away on something new. I can't get him to tell me what, but I have the feeling that it is a piece for piano and violin. Am I right?" A mere ten days later, Clara delighted in having finally seen Robert's new sonata, eventually published as Op. 105. "I am extraordinarily enchanted by the entire character of the work, and can hardly wait to play through it." Apparently, Schumann's motivation for composing his first violin sonata originated from mounting tensions with his employer, the Düsseldorf Musikverein. His fragile mental health, frequent irritability and incompetence as a conductor seriously strained his relationship with the orchestra musicians, and he was bluntly told to focus on composition. As such, we might conceivably read this sonata as Robert's honest attempt to musically explore the psychological complexities of his increasingly agitated and anxious mind, a task he frequently assigned to "Florestan," the imaginary half of his alter ego.

Great surges and emotional upheaval permeate much of the composition, and Clara could never come to terms with the concluding movement. Its restless and tormented character was possibly a little too close to the psychological profile of Robert's mind. Schumann was seemingly unable to find a satisfactory musical solution to the work, and it is worth remembering that only a couple years later he attempted to commit suicide by jumping into the icy waters of the Rhine River. Within a few weeks after finishing his first violin sonata, he wrote a second work for the same combination of instruments. "I did not like the first violin sonata," he told a close friend, "so I then wrote a second one, which is hopefully better." The contrast between the two works could not be greater. Whereas the first violin sonata, unfolding in three movements, and is melancholy, dark and broody in character, the second violin sonata is cast in four movements and bursts with vibrant and radiantly positive energy. In the second sonata, published as Op. 121, Schumann finally freed himself from the depression arising from his dispute with the Düsseldorf Musikverein. Schumann frequently assigned this kind of musical therapy to "Eusebius," the more introspective half of his personality.


Composed within a matter of days, the D-minor sonata received a number of private performances before Clara Schumann and Joseph Joachim introduced the work to the public in Düsseldorf. Interestingly, Schumann had problems getting the work published. He first asked the Berlin publisher Bote & Bock to take on the composition, but he was flatly rejected. By early 1853, Schumann approached Breitkopf & Härtel and wrote, "The last time I was in Leipzig you enquired as to whether I had already assigned my 2nd sonata for violin and pianoforte to a publisher. At that time, I gave a somewhat reticent answer. I think I owe it to you, now that it is ready for publication, to offer it to you first." Schumann had not been entirely truthful, but nevertheless received a letter of acceptance and advance payment. Op. 121 was published in September 1853.
The violin sonatas alongside a host of works from the later stages of Schumann's career have long been considered products of his diseased mind. Scholars and historians have readily found evidence of deterioration, with many later works dismissed on account of Schumann's mental health. The Piano trio of 1852, for example, was said to "belong to the period of Schumann's increasing mental instability and shows a sad decline from previous standards." Interestingly, a number of negative evaluations originated with Clara Schumann. For one, she suppressed her husband's
Violin Concerto
of 1853, calling it an "exceedingly weak and morbid effort." Clara even convinced Johannes Brahms, who was acting as general editor of her husband's complete works, to omit this composition. As such, the Violin concerto was first performed and published only in 1937. Current scholarship suggests that for Robert Schumann, composition was always part symptomology and part therapy, a notion seemingly confirmed by his first two violin sonatas. However, we should never discount Schumann's ever-innovative approach to large-scale musical form. His adoption of irregular phrases, avoidance of periodicity, subversion of clear-cut cadences and the rapid alternation between lyrical and dramatic styles, are not necessarily telltale signs of mental illness; they may also hint at the rapidly emerging musical influence of Richard Wagner.
Robert Schumann: Violin Sonata No. 2, Op. 121