Henrik Ibsen (1828-1906) wrote his 5-act play Peer Gynt in 1876 and it is still one of the most performed Norwegian plays. It was given its premiere in Christiana / Oslo in February 1876, with incidental music by Edvard Grieg, and is one of the rare sets of incidental music that is still popular now, with In the Hall of the Mountain King and Morning Mood still on the classical charts.
The play was a 'satire on Norwegian egotism, narrowness, and self-sufficiency' and also 'the story of a life based on procrastination and avoidance'. It was attacked by Ibsen's contemporaries, including Hans Christian Andersen, who said that the play was not poetry. Ibsen shot back with the fact that it 'is poetry and if it isn't, it will become such'. Despite his defence of his unusual style, it would be the last play by Ibsen in verse. One contemporary critic notes that Ibsen's stage requirements for a story that transcends time and space could not be met by the technology of the day, but was really something that was waiting for film to be invented.
Act I has Peer and his mother Åse left impoverished by his now-vanished father. Peer attends the wedding of Ingrid, and by the end of the act has kidnapped her and spends the night with her in the mountains. Act II has Peer in dream mode after hitting his head on a rock. He dreams he's in the Halls of the Mountain King and meets his green-clad daughter. The daughter is pregnant because of a thought of Peer's and then he awakens.
Act III focuses on Peer the outlaw, living with Solveig, who had turned him down in Act I at the wedding dance. The woman in green arrives with Peer's dream child and Peer leaves, first to attend his mother's funeral and then to depart overseas.
Act IV finds him in Morocco, where he's an unethical businessman. Robbed by his companions for supporting the wrong side, he dresses in Bedu clothes and is hailed as a prophet. Anitra, the chieftain's daughter, is his next goal, but she steals his money and jewels and abandons him. The act ends with him in Egypt and meets like-minded souls in the local madhouse.
The final Act has the old man Peer shipwrecked on his way home. Arriving in Norway, he finds his household goods up for sale. An existential ending ensues where Peer is asked to account for himself, he cannot, but Solveig and his mother (she didn't really die in Act III) absolve him.
In this excerpt from the incidental music, we are in Act IV and Anitra, the Beduin chieftain's daughter, is dancing for him.
Edvard Grieg: Peer Gynt, Op. 23 – 10. Anitra's Dance

This 1951 recording is conducted by Odd Grüner-Hegge leading the Oslo Philharmonic Orchestra. Norwegian conductor Grüner-Hegge was music director of the Oslo Philharmonic from 1931-1933 and again from 1945-62. He was a composer of a violin sonata, a piano sonata, a trio for piano, violin and cello, and the Elegiac melody for strings.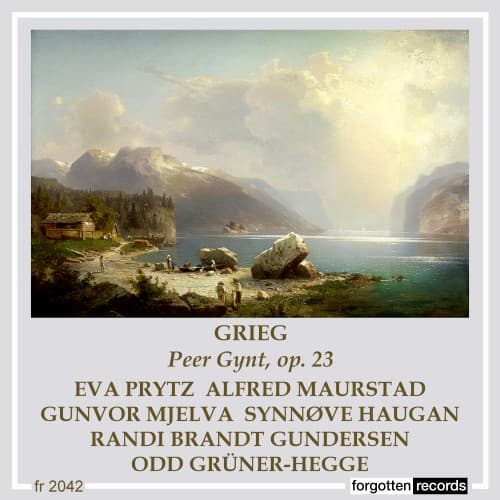 Performed by

Eva Prytz
Odd Grüner-Hegge
Orchestre Philharmonique d'Oslo

Recorded in 1951

Official Website
For more of the best in classical music, sign up for our E-Newsletter