The arts don't exist in isolation.
David Byrne, musician
Musicians, like writers and artists, need quiet time and solitude to pursue their work. The desire to withdraw, often for hours on end, is not necessarily a sign of unsociability nor introvertedness but rather a signifier of deliberate intent and purpose. We choose to withdraw into our work spaces – whether it is a purpose-built music room or studio, or simply a corner of the home which is designated as one's "creative space" – in order to get on with our work. For those who live with musicians, artists and writers, appreciating and respecting this need, and the creative space, is both important and supportive.
Ysaÿe: Violin Sonata in A Minor, Op. 27 No. 2 – II. Malinconia: Poco Lento (Krzysztof Jakowicz, violin; Maria Jurasz, piano)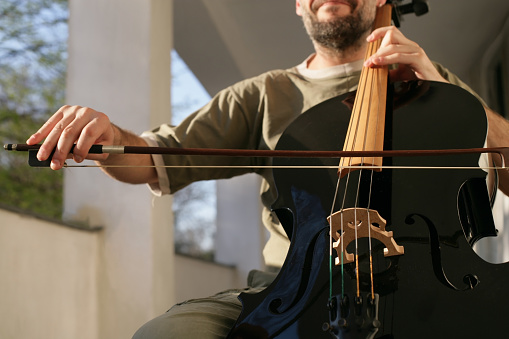 The lockdown in response to coronavirus is seen by many as an opportunity to "get creative" and in the first days of the UK lockdown, my Twitter feed was full of tweets by well-meaning people urging us to "learn a new language", "finish that novel you always wanted to write", "take up art" and make use of all this new-found "spare time". Musicians were told they should think themselves "very lucky" to have all this "extra time to practice", but while amateur musicians are relishing this time, professional musicians are more ambivalent, and some are quite hostile to the idea that they should welcome this grand fermata in their busy lives.
The trouble is, we didn't choose this period of isolation; it was imposed upon us. And that affects inspiration, because in normal circumstances when we take ourselves off to our creative space, we control that intent, we have autonomy over our own time and how much of it we choose to spend alone.
It may be true that inspiration is about 80% solitary graft, day in day out, and that most inspiration comes from a regular routine rather than "lightbulb moments", but the lockdown has, for many of us, caused a massive rupture in our routine. Musicians, for example, are not able to attend rehearsals, where regular interactions with colleagues fuel creativity – and if there's one truism about creativity, it is that one must "feed the muse". Interactions and experiences are the staple diet of the Muse, and the richer our experience, the better fed and healthy the Muse will be. For the musician, experiences are not only musical ones (listening to music, going to concerts, collaborating with other musicians), but life experiences in general – relationships, travel, sights and smells, interactions with others, events large and small. Unfortunately, almost all of these experiences are impossible at present, and this physical confinement can seriously limit the imagination.
Schubert: Piano Quintet in A Major, Op. 114, D. 667, "Die Forelle" (The Trout) (Kodály Quartet; István Tóth, double bass; Jenő Jandó, piano)


Another important factor is motivation. Several musician friends have commented to me that without the focus of concerts to prepare for, they see little point in practising. And without regular practising or rehearsals, one slips out of a daily routine, leaving one feeling disoriented, out of sorts, and in some instances, depressed.
In addition, music, art, words need an audience – and this is what I think David Byrne means in his quote at the head of this article. The arts and creativity cannot really thrive in isolation: the musician needs the performance to work towards, the artist the exhibition, the writer the deadline. This is not attention-seeking but rather a significant motivator, and more fuel for the muse.
Of course many creative people are finding inspiration in isolation (and it remains to be seen how many Requiems for the Victims of Coronavirus are premiered when the concert halls reopen, or Lockdown Diaries published!), and for some of my musician colleagues, this pause has been a reminder of just how hard they work in normal times – rehearsing, teaching, performing, travelling, plus all the other admin and minutiae of daily life. If nothing else, the lockdown is an opportunity for a much-needed rest.