Havergal Brian (1876-1972) was one of the most prolific modern symphonists, writing 32 symphonies between 1919 and 1968. However, he considered his calling to be to the field of opera. Accordingly, he wrote 5 operas, works for voice and orchestra, and over 60 works for chorus. Even he saw his symphonic works as springing from poetry or drama. However, few of his works were performed in public until after his death. One writer thinks that this was due to the fact that his support by a local businessman to be free to compose meant that he didn't have to write to order or produce music for performance – he didn't need the income.
His Symphony No. 16 in C sharp minor, written in 1960, is part of a group of 5 symphonies that Brian wrote between November 1959 and January 1961. Symphonies 13 through 17 are all single-movement symphonies and are filled with experimentation. They were written following a 30-month hiatus in composing. Written when the composer was 84 years old, and just over halfway through his final total of 32 symphonies, Symphony No. 16 is considered the most successful of the group of 5. He wrote the score between June and July 1960 and finished it up on 8 August. This was a change from his normal practice of leaving the summer free of composition – and he described the composition of the work as being an 'obsession.'
One idea about the literature behind the work is a note he wrote to another composer saying that what he was reading at the time was Herodotus' history of the Battle of Thermopylae. In a seven-day battle, Leonidas' Greek army of 7,000 Spartans, Thebans, and Thespians held off the Xerxes' Persian Army of 100,000 to 150,000 men. The small army was eventually outflanked and defeated. The retreat of the Greek army was guarded by Leonidas and his 300 Spartans (and others) in a famous last stand (see the movie 300 for a modern version of this).
Herodotus' account is colourful and includes many side incidents that may be more fiction than fact, but he also helped create the enduring legacy of the power of a free patriotic army (Greece) against an army of imperial subjects (Persia).
We can hear the martial character in so much of this symphony. From its opening in a kind of uneasy calm, the tension gradually builds up to a kind of 'vehement uproar.' The movement of the theme from oboe to the brasses also underlines the martial character.
Havergal Brian: Symphony No. 16 (New Russia State Symphony Orchestra; Alexander Walker, cont.)

The New Russian State Orchestra was founded in 1990 and has enjoyed an international reputation, travelling widely. British conductor Alexander Walker studied at the Guildhall School of Music and Drama in London and at the St. Petersburg Conservatoire. He's known for conducting operas, ballet, and for championing the music of Elgar, being awarded the Elgar Medal by the Elgar Society for his work.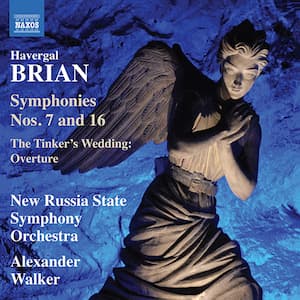 Havergal Brian: Symphony No. 16

Performed by
Alexander Walker
New Russia State Symphony Orchestra

Official Website
For more of the best in classical music, sign up to our E-Newsletter