"On the Trail"
Shortly before celebrating his 80th birthday, the American composer, arranger, pianist, and instrumentalist Ferde Grofé (1892-1972) died in Santa Monica, California. As we celebrate the 50th year of his passing, he might not be a household name. However, his compositions of lighter symphonic fare, "with their colorful, programmatic Americana content, appealed to many Americans who had no appreciation or understanding of music based on European classical models." On one hand, Grofé achieved lasting fame for arranging George Gershwin's Rhapsody in Blue for performance by the Paul Whiteman orchestra. He transformed the Gershwin score, written for two pianos, into a living musical and colorful canvas.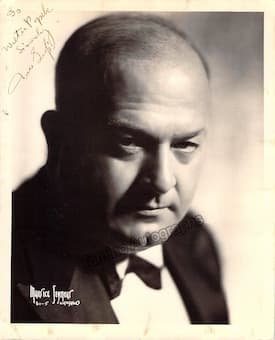 Secondly, Grofé is famous for a number of works dedicated to American landscapes. In his most celebrated work, the Grand Canyon Suite of 1931, Grofé translated his impressions of the richness of the land and the rugged optimism of its people into musical form. He later wrote, "This composition was born of sight, sound and sensations common to all of us. I think I have spoken of America in this music simply because America spoke to me, just as it has spoken to you and to every one of us. If I have succeeded in capturing some part of the American musical spirit, I am grateful that I was trained to do so. But this music is your music, and mine only in the highly technical sense that a copyright has been filed away with my name on it. Always we must realize that there is much more to hear. Our land is rich in music, and if you listen you can hear it right now. This is our music you hear, surging forth, singing up to every one of us."
Ferde Grofé: Grand Canyon Suite
Ferdinand Rudolph von Grofé was born into a family of German immigrants in New York City in 1892. He came from a highly talented family of classical musicians; his father Emil was a singing actor, and his mother, Elsa Johanna Bierlich von Grofé was a professional cellist and versatile music teacher. Her father Bernardt, in turn, was a first-desk cellist with the Metropolitan Opera Orchestra, and her brother Julius was first violinist and concertmaster of the Los Angeles Symphony. Young Ferde received piano and violin lessons from his mother, and after his father's death, she took him to study piano, viola and composition with Otto Leonhardt in Leipzig.
Once they returned to Los Angeles, his mother opened a studio and Ferde became proficient on a wide range of instruments, including piano, violin, viola (he subsequently became a violist in the LA Symphony), baritone horn, alto horn and cornet. When his mother remarried, Ferde ran away from home and "variously worked as a milkman, truck driver, usher, newsboy, elevator operator, helper in a book bindery, iron factory worker, and played in a piano bar for two dollars a night and as an accompanist." He performed in dance halls, calling himself "Professor Grofé," and founded his own jazz band in San Francisco. His early arrangements caught the attention of bandleader Paul Whiteman, and in 1920 Grofé was hired as pianist and arranger.
Paul Whiteman and his Orchestra: "Whispering" arr. Ferde Grofé
Grofé's very first arrangement for Whiteman "Whispering" became a million-selling hit, and the band moved from the Alexandria Hotel in Los Angeles to the Ambassador Hotel in Atlantic City, and eventually to the Palais Royal in New York. The ensemble's recordings for Victor, and later Columbia, sold millions of copies and established the band as the pre-eminent dance band of the early 1920s. Grofé produced literally hundreds of arrangements, and his "orchestral ideas laid the foundation for what became the big-band sound." In essence, Grofé conceived the basic format that makes jazz playing in large ensembles possible by contrasting fully written-out passages with improvised breaks. And to be sure, his arrangement of Gershwin's Rhapsody in Blue (1924) secured his reputation. Not everybody, however, was enamored with Grofé's flowery arrangements. A reviewer of a Whiteman concert in New York wrote, "the music was expected to be pleasing, and it proved so when it was repeated last night, in spite of the excessive instrumentation of Ferde Grofé." Later generations of critics called the arrangements of Grofé "the essence of slick commercialism." Be that as it may, Whiteman did encourage Grofé to compose works in the symphonic jazz idiom, and Metropolis appeared in 1928.
Ferde Grofé: Metropolis: A Blue Fantasy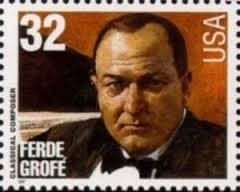 After an acrimonious split with Whiteman, Grofé spent the next decade working primarily as a radio arranger and conductor, and also guest conducting bands and symphony orchestras around the country. He was named chief musical arranger and "composer laureate" for Radio City Music Hall in 1932. Over the next 30 years he wrote and arranged many works for concert bands, and received commissions for a number of ballets in the 1930s. He was invited to teach orchestration at the Juilliard Summer School, and he devoted his time to large-scale compositions and guest conducting. His film score for Minstrel Man (1944) earned an Academy Award nomination, although his score for the science fiction film, Rocketship X-M (1950), is perhaps better known for its effective use of the theremin. "As the first and principal arranger for what became the dominant band of the jazz age, Grofé's influence dictated and raised the standard for much jazz and dance band arranging of the decade."
For more of the best in classical music, sign up to our E-Newsletter
Ferde Grofé: Piano Concerto in D minor (Jesús-María Sanromá, piano; Rochester Philharmonic Orchestra; Ferde Grofé, cond.)