Giacomo Puccini and the Automobile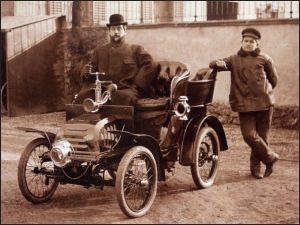 Giacomo Puccini had a penchant for fine cigars, quality spirits and every woman he could possibly get his hands on! And did I mention excessive gambling and hunting with country friends in the Florentine marshes and woods? Yet his most cherished pastimes since 1901 involved driving fast cars and speedboats. He bought the latest and fastest automobiles, and his yachts were named after the works whose proceeds financed them. Puccini lifestyle balanced on the cutting edge of taste and technology, and for his admiring fans, he presented a link to Italy's glorious past. But what is more, he also became an emblem of the dynamic modernity of Italy's future.

Giacomo Puccini: Madama Butterfly, "Con onor muore"
Puccini's fanatical obsession with motorcars almost deprived us of Madama Butterfly and all subsequent operas. By 1901, Puccini was a regular visitor at the International Automobile Show in Milan, and he informed his librettist Luigi Illica that he "was dreaming of building a 300 horsepower automobile." In the event, Puccini did not build his own car but bought a brand-new 5 horsepower Clément Bayard instead. Puccini quickly had a minor accident in 1902, but on 25 February 1903 he took his wife Elvira and their son Antonio for a drive to Torre del Lago. On their way home, Puccini's chauffeur was momentarily distracted and the car went off the road, flipping and rolling down a slope. Elvira and Antonio escaped serious injury, but Puccini was pinned under the vehicle with a section of the car pressing down on his chest. In addition, the accident had caused a severe fracture of his right leg, and it took the quick intervention of a doctor living nearby to actually save his life.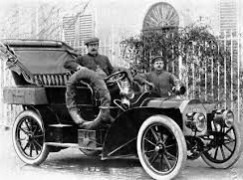 Newspaper reports covering the accident rivaled the dramatic tone of Puccini's operatic productions. Large picture spreads were subtitled "Maestro Puccini's motoring catastrophe," and "scene of the disaster." Adding insult to injury, Puccini's wounds stubbornly refused to heal, and the composer was practically locked up in his bedroom. On 13 May 1903 he dejectedly writes, "They un-bandaged me yesterday, and progress was so insignificant that the doctor declared I will have another three months of it, if all goes well. I can't tell you how I feel! I was hoping to get to the piano and begin work, to set foot on the ground! Farewell to everything, farewell Butterfly, farewell my life! It's terrible! The discouragement is really getting to me now. I am trying to take heart, but I can't succeed in calming myself down." Puccini's physical and mental condition predictably caused serious concerns with his publisher Giulio Ricordi. He writes, "Is it possible that a man such as Puccini, an artist who has made millions of people tremble and weak with the power and charm of his creations, has become a ridiculous and faint-hearted puppet…. Certainly, the unforeseen and cursed catastrophe that befell you is the primary cause of your present state, but this had already been prepared by prior events." Ricordi, it seemed, was primarily concerned that the composer's depression was caused by syphilis. A thorough medical examination revealed that Puccini did not suffer from syphilis after all, but was merely inflected by a mild form of diabetes. Luckily, Puccini recovered to finish Butterfly, La Faniciulla del West, La rondine, Il trittico and large portions of Turandot.

Puccini was by no means the only composer interested in this new and exciting form of transportation. Sergei Rachmaninoff toured the United States with his Third Concerto in 1909 in order to earn enough money to buy an automobile. It is reported that Sergei Prokofiev was a fast and furious driver until he hit a number of unfortunate bicyclists! Arnold Schoenberg loved to take his family on Sunday drives in his stately limo, and Alban Berg took Alma Mahler for a furious spin in his fast machine. And wouldn't you know it, Richard Strauss only drove Mercedes!