In 1704, Johann Jacob entered into the musical services of King Charles XII of Sweden. For that particular occasion, the teenage Johann Sebastian composed a
Capriccio for keyboard in B-flat major
, BWV 992. Interestingly, Bach provided a specific title for the work, and six subtitles for each of the movements. Titled "Capriccio sopra la lontananza del fratello dilettissimo" (Capriccio on the departure (absence) of my most dear brother), it is one of Bach's few programmatic works. Furthermore, each of the six movements is prefaced by a few words that provide insight into the desired affections—a term best described as moving the emotions—of the music. And these inscriptions certainly place the music within the collective drama of the departing brother.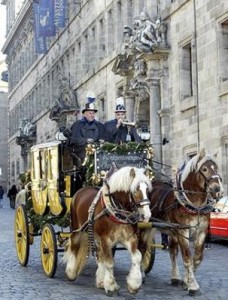 The opening Adagio, "A plea by his friends to prevent him from making the journey," features a substantial number of cadences in the home key, suggesting a reluctance to let go. The second movement presents "A scenario of the various misfortunes that could befall him in foreign land," while the "General lament of his friends" builds from a repeating bass pattern that is played a total of 12 times. In the fourth movement, "his friends come—since they see that it cannot be otherwise—to bid their farewells," and the postal carriage arrives with the coachman playing an "Aria of the post horn." The last and most elaborate movement is a "Fugue in imitation of the post horn." Built from the bass fanfare subject, this movement develops into a fully-fledged double fugue. The post horn call from the previous movement becomes the countersubject for a trumpet-like main theme, and now that everybody has departed, the young Bach can once again concentrate on his musical studies.

Johann Sebastian Bach: Capriccio, BWV 992

Johann Sebastian Bach and his older brother Johann Jacob shared a special bond. Their mother Elisabeth Bach died on 3 May 1694, and their father Ambrosius Bach followed her into the grave on 20 February 1695. Orphaned, both boys were placed under the guardianship of their eldest brother, 22-year old Johann Christoph. He was organist in the small town of Ohrdruf, near Arnstadt in Thuringia, and his young charges received general and musical education under his care.