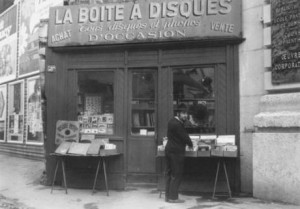 Noah, the hero of the Bible's Genesis flood narrative, was probably the most famous collector of all times. After all, he collected two of every living animal and housed them on his ark! However, from cocktail sticks to barbed wire, and from teddy bears to things unspeakable, everybody collects something. While some individuals collect for investment or for pure enjoyment, others collect to preserve the past. The Parisian record dealer Edouard Pécourt had fallen in love with the music of tango and embarked on a lifelong obsession of collecting tango memorabilia. He owned and operated a shop called "La Boîte à Disques" in Paris from the early 1950s. Over time, Pécourt's collection grew to tens of thousands of items, including recordings, videotapes, magazines, scores, posters, and photographs. Pécourt taught himself to read Argentine Spanish, and from tango magazines imported from Argentina, he became aware of the virtuoso bandoneonist Astor Piazzolla who was on the verge of revolutionizing the tango tradition.

Astor Piazzolla: Sinfonia Buenos Aires, Op. 15
In Argentina meanwhile, Piazzolla had won a scholarship from the French government to study in Paris. Upon his arrival in the French capital Piazzolla studied with Nadia Boulanger and formed a deep friendship with Pécourt that was to last the rest of his life. Pécourt acted as Piazzolla's interpreter, and he drove him around the streets of Paris in his new motorcar. Amused by the extraordinary number of one-way streets, Piazzolla musically encoded his impressions with his tango "Sens unique." And of course, the charming and melancholy "Chau Paris" was dedicated to Pecourt and his English wife Valerie. In February 1955, the Pécourt and Piazzolla families set off on a 3-week holiday, traveling from Nice to Naples and receiving the blessings of Pope Pius XII in Rome. Edouard finally made his way to Buenos Aires in 1961, and Piazzolla took his wife Dedé on a four-month trip to Europe in 1964. They stayed at the Pécourt house in the rue Brancion, and Piazzolla was over the moon with Edouard's legendary record collection. When Edouard married Jocelyn Howells, his magnificent collection moved to the US state of Oregon. In 2010 and 2013 the University of California at Santa Barbara acquired the Edouard Pécourt Collection. Thanks to Edouard's collecting obsession and his wife's preservation efforts, this impressive archive of documents detailing various strands of 20th century music is now available to scholars and tango connoisseurs alike.

Astor Piazzolla: "Sens Unique"
Astor Piazzolla: "Chau Paris"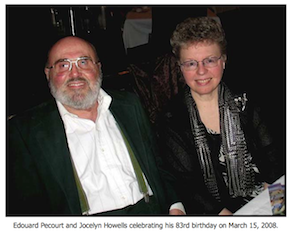 Born in Montmartre, Paris, France, Edouard Pecourt (1925-2008) lived in France until 1986, when he married American Jocelyn Howells and moved to Portland, Oregon. From 1954 until the move, Pecourt ran La Boîte à Disques at 58 bis Rue du Louvre in Paris, where he sold antique phonographs, records, and postcards. In Paris, Pecourt imported many tango recordings from South America and worked as a record consultant for the Odeon record company. Pecourt was a friend of Astor Piazzolla, Eduardo Falú, and other well known tango artists and composers. He was a world-renowned historian, archivist, discographer, and collector of all things related to tango music and dance. Like many dealer/collectors, he both bought and sold, keeping the best for himself. In this case, the best ended up in his tango collection, numbering over 9,000 78rpm discs. His goal was comprehensiveness, and in some areas—such as the recordings of Carlos Gardel—he achieved it.

Acquired by the UCSB Library in 2010 and 2013, the collection contains:

• 3,000 French cylinder recordings. Pecourt's extraordinary collection of cylinders, almost all French repertoire from the turn of the 20th century, includes hundreds of cylinders issued by Pathé, including salon and concert (stentor) sizes; hundreds recorded by smaller companies such as Cylindres Dutreih, Société Francaise des Cylindres Artistiques, Phenix, and other French companies; and hundreds of cylinders made by the French divisions of Edison and Columbia Records. There are nearly 1,000 brown wax cylinders in the collection, mostly uncataloged.

• 18,000 78rpm disc recordings, primarily French, but also European issues of American jazz and Latin American popular music. Portions of the collection have been cataloged with the support of the Council on Library and Information Resources "Hidden Collections" program funded by the Andrew W. Mellow Foundation.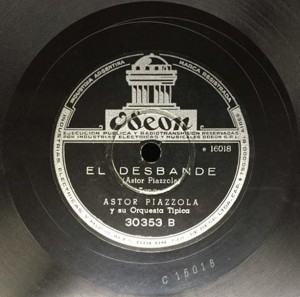 • 10,000 Argentine tango 78 rpm discs and other Latin American reocrdings, including Argentine folklórico and Cuban and Puerto Rican recordings. Cataloging of this portion of the collection is in progress.

• Manuscript and ephemeral material relating to the Argentine tango and related genres.

• Supporting material including LPs, CDs, 45s, sheet music, trade catalogs, books, and serials. Portions of the books and serials have been processed and are cataloged. LPs, CDs, 45s, and sheet music are currently unprocessed.

Many of the cylinder recordings have been cataloged and digitized and can be found in the UCSB Cylinder Audio Archive. 78rpm discs that have been cataloged can be found using UCSB Library Search. Digital copies can be requested through a Special Collections Research Account.

The manuscript and ephemeral material portions of the collection comprise the Edouard Pecourt Tango and Latin American Music Collection. For a description and inventory, consult the finding guide in the Online Archive of California (OAC).

1925, March 15 – BIRTH OF EDOUARD PECOURT

Collector (Pisces) – during Nazis occupied Paris several times he narrowly escaped being arrested…he remembered hunger and walking for hours through the country side to reach a farmer whom it was rumored had meat to sell…his wife abandoned him leaving him to care for two young children from his meagre earning selling pens…some how, along the journey of an epic life he fell in love with tango and his collection would eventually reach 50, 000 recordings…Edouard Percourt was born in the fabled artists' hill of Montmartre in Paris….his father died while he was still a boy and his mother abandoned him to a tough, strict orphanage where he learned to fight to survive…his first job was as a shoe repairman working long hours and making barely enough to survive; hoping to better his lot, he went into selling pens…an Arabic woman invited him to sell his pens at her Arabic music stand; here he was first exposed to tango; it was love at first sight, "three-minute operas" he called them…he began passionately collecting tango records which in the fiftys nobody wanted any more and he could acquire for next to nothing…

***

In 1953 through tremendous personal sacrifice he purchased the old, dusty shop where he regularly bought his tango records…he renamed it "La Boite a Disques" (The Record Box)…here, located near the Louvre, in the shadow of Dali, Monet, Picasso, Van Gogh he had found his spiritual home…one day the bell on the door rang, he turned his head to see a young Astor Piazzolla walk in…their mutual love of music would bond them in a friendship for the rest of their lives…his 50,000 tango record collection includes more than 1000 recordings by Carlos Gardel and every Piazzolla original disc ever published anywhere in the world…in 1981 in New York City he met Jocelyn Howells, fell in love and married her; she was his third wife….at the age of sixty-two he did another courageous thing, he sold his shop and moved, along with his immense collection, to be with Jocelyn among the majestic evergreens just outside of Portland, Oregon…he became a dear friend to local tangueros to whom, in his french accent, with radiance and little boy enthusiasm, he would give talks on the history of tango…he passed away at the age of 83 from brain lymphoma with his beloved Jocelyn by his side

"Chau Paris" composed by Astor Piazzolla during his stay in Paris and dedicated to his friend Edouard Pecourt