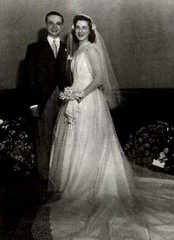 Odetta Maria Wolff, affectionately known as Dedé, first laid eyes on Astor Piazzolla at a tea party in September 1940. She was not impressed at all, and found him "a rather ugly boy, round faced, who paid more attention to her sister Liebe." Piazzolla on the other hand, was very excited by Dedé and immediately told his parents that he now had a girlfriend! Dedé knew nothing about such matters, as she was infatuated with a young man doing military service. Yet over the next couple of months, Dedé and Astor started going out, and he soon had a "man-to-man" talk with Dedé's father. Dedé recalled, "We closed the door of the little room where my father and Astor were, and we three sisters eavesdropped from the dining room behind the door. Astor said, look, Don Emilio, don't form a bad opinion of me just because I work in a cabaret. My intentions are different. I am going to study music, and conduct a symphony orchestra. Papa summoned us in, and we went to buy some pizzas. And so I became a fiancée."
Astor Piazzolla: Llanto negro, "Milonga Candombe" (Rosa Antonelli, piano)

Engagement and Marriage
Dedé was eighteen and Astor almost twenty. He was employed as a bandoneon player with Troilo's band and frequently traveled the country for performances. Whenever he was separated from Dedé, Astor wrote glowing love letters. He writes from Montevideo in February 1941, "Tomorrow; one year, five months since I fell in love with you." He told her how much "he longed to honeymoon with her in the nearby mountains," and one year later he again declares, "I am madly in love with you, and everyone knows it. God! The only things I think about are you and my music, which are things I most love." The official engagement party was held in May 1942, and the wedding took place at the end of October 1942. The simple civil ceremony was followed by an official church wedding 2 days later. Astor's boyish appearance confused the parish priest, who declared, "Look, the bride is here, but the bridegroom hasn't turned up." In fact, Astor had been standing with Dedé's mother near the altar all along. They spent their honeymoon in the Córdoba Mountains and set up house in Buenos Aires thereafter.
Astor Piazzolla: Dedé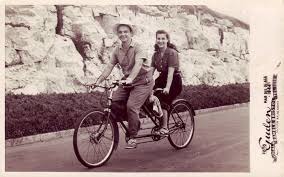 Road to Paris
Dedé fell "crazily in love with Astor," and their daughter Diana Irene was born in July 1943, followed by son Daniel Hugo in 1945. While the young couple and their children settled into a comfortable routine, Astor's musical employment with Troilo was becoming increasingly strained. "Stop Astor, he's turning my band into a symphony orchestra," he complained to Dedé. Soon thereafter, Astor started to form his own band and entered a musical competition that awarded him a grant from the French government to study in Paris with the legendary composition teacher Nadia Boulanger. In 1954, Dedé and Astor traveled to Paris, with Astor attending composition lessons and Dedé reengaging with her passion for painting. They often went to the movies, and spent a good deal of time in museums and art exhibitions. They traveled throughout Europe and could have stayed in Paris, but Piazzolla was determined to go home. "No, no, no, my children have to go back to school, I have to go back."
Astor Piazzolla: Chau Paris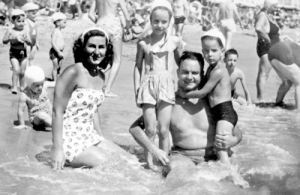 The Inglorious Ending
Upon their return to Argentina, they found things tough going and relocated to New York City. Astor continued to struggle to make a living as a musician and arranger, and the family once more moved back to Buenos Aires. In the process, the once rock-solid relationship started to crumble. Daniel was surprised to see his father ogling women in the street, "my old man is looking at girls, how weird!," he exclaimed. Dedé and Astor had also been quarreling about politics for a while, and he thoroughly disapproved of her growing political interest in left-wing Peronism. Tensions started to escalate and Astor began seeing other women. The domestic situation quickly became filled with heated arguments and rows, and on 2 February 1966, Piazzolla packed his suitcase and moved out of the apartment. "I hope you find a man who really deserves you," he told her. At first, nobody wanted to believe it, but eventually the lawyers disentangled the marriage. On the day of their supposed silver wedding anniversary, the courts decreed a legal separation. Since divorce was still illegal in Argentina, it would take another twenty year before the marriage was officially dissolved in 1988.
For more of the best in classical music, sign up to our E-Newsletter
Astor Piazzolla: Caliente (InTime Quintet)