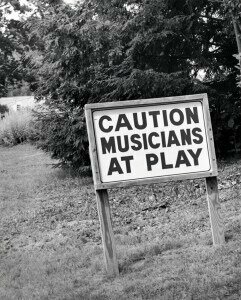 When we are faced with important decisions in life it feels scary to take a leap and embrace change. When I was in my twenties, I didn't anticipate that dreaming big and having lofty goals would result in my career falling into place.

My first orchestral position was as associate principal cello of the Indianapolis Symphony. I felt very fortunate to land a principal spot so early in my career.

During my first season the Minneapolis based Minnesota Orchestra announced an opening for associate principal cello. They had five sets of auditions without choosing a candidate. Hoping to find a qualified candidate, the orchestra management held an invitation only audition for those who were associate principal cello of orchestras in other cities. They contacted me. "Would you be able to come to audition for the Minnesota Orchestra next week?" asked Ron Balasz, the personnel manager. He told me what music would be required for the audition. Without too much hesitation, although I felt that it certainly was not very much time to prepare, I decided to try it.

Needless to say, I was in way over my head. I totally bombed the audition. After the preliminary round the personnel manager said, "I really don't think you are ready for this orchestra." Before I could stop myself I exclaimed, "Oh yes I am!"

I remember berating myself for the outburst. I knew I would try to audition again when they advertised the position. With chagrin I realized that I would encounter Ron when the time came.


During that first season with the Indianapolis Symphony, I had also auditioned for the famed
Marlboro Music Festival
. I was quite thrilled when I received notification that they accepted me. The famous chamber music festival offered young musicians the opportunity to play with some of the great artists of the time, rubbing shoulders with pianists Mieczysław Horszowski, Eugene Istomin and Rudolph and Peter Serkin; violinists Isidore Cohen, Felix Galimir and Sandor Vegh; cellists, Mischa Schneider and David Soyer; clarinetist Harold Wright; flutist Marcel Moyse, soprano Benita Valente, and many others.
The Indianapolis Symphony season ended for the summer and I happily packed my bags to spend several weeks in Marlboro, Vermont. We were assigned to play in various groups—and I couldn't wait to perform chamber music from morning until night.
The first week one of the works I played was the Schumann Quintet for Piano and Strings with Felix Galimir. Every time I played the cello melody in the first movement he would shudder and shake. With a great inhale he said, "Pshhhhtt! Can't you play in tune??"
Dvořák's
Serenade for Wind Instruments, Cello and Double Bass
was another piece I was involved in, the group comprising some of the best wind players in the country. Not every ensemble was given the opportunity to perform. We were delighted to be chosen to play on the opening Friday night program.
After the performance, the manager, Frank Salomon, invited me to his office. "I would like to invite you to participate in the
Music From Marlboro
concert tour in the fall," he said. The featured work included one of my favorite chamber music works— Dvořák Piano Quintet. Too stunned to speak I nodded my head vigorously and as soon as I could, I called my parents to tell them that I would be performing chamber music in some of the major venues in the country— in New York, Philadelphia and Washington. Rehearsals would take place beforehand in New York City.
When I called the Indianapolis Symphony management with the news, they indicated that I could not miss the beginning of the orchestral season. It happened to be a contract-negotiating year and we were in between contracts. I resigned my position.
My mother was aghast. "Don't quit your job," she pleaded.
"I'll get
another
job. I can't miss this opportunity."
Meanwhile, the Minnesota Orchestra scheduled auditions again for the associate principal cello vacancy. My heart sank. The auditions were to take place in the middle of the Marlboro tour. I'd just have to work extra hard.
With trepidation, I made an appointment with Frank Salomon to ask for time off to fly from New York to Minneapolis for the audition. Salomon called Ron Balasz, the personnel manager in Minneapolis, to see what my chances might be. "Actually," Ron confided, "She didn't even get past the
prelims
last time. I hardly think she's qualified."
Salomon turned me down. Undaunted, I decided to go for it anyway. I would have to rehearse for three hours in New York 9:00 a.m. to 12:00 p.m., fly to Minneapolis and go straight to Orchestra Hall to play the audition. There were several rounds as they eliminated candidates. For hours I sat in a frigid, tiny practice room with no opportunity to run out for a bite to eat. Each time I played on the enormous, empty stage I was intensely focused, determined to do my best and to get the job. At 2:00 a.m., after playing four times, I won the audition.
There was little time to celebrate. The flight back to New York was at 7:00 a.m. and my chamber group was waiting to rehearse for our first
Music from Marlboro
concert that evening in New York City. Once I was on the plane I pulled my coat over my head and cried all the way to New York.
Three decades later I'm still here. The Minnesota Orchestra continues to make great music and performs in some of the most famous concert halls on international tours; My career includes chamber music and solo playing; I became an injury prevention advocate, wrote
Playing (less) Hurt- An Injury Prevention Guide for Musicians
and I met my husband. Ron Balasz never tired of telling my audition story to prospective candidates.
So you see, life can throw you curves but if you dream big sometimes you can attain lofty goals.
Marlboro Music