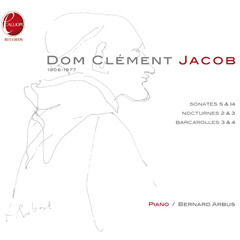 Nocturnes no. 3
From Dom Clément JACOB (1906-1977) – Works for piano solo
Released by Indésens Records
Dom Clément Jacob: Nocturnes no. 3

Maxime Jacob, or Dom Clément Jacob, (1906 -1977) was a French composer and organist.

Jacob studied at the Paris Conservatory with Charles Koechlin and André Gedalge; an admirer of Darius Milhaud and Erik Satie, he was a member of the Ecole d'Acueil. In 1929, Jacob converted from Judaism to Catholicism(influenced by Jacques Maritain) and became a Benedictine monk. He would go on to study organ with Maurice Duruflé, as well as Gregorian chant.

Jacob also published two books, L'art et la grâce (1939) and Souvenirs a deux voix (1969).