Swiss composer Francesco Hoch takes modern music everywhere. He's written for a wide variety of ensembles, from children's voice through full orchestral works. He's been part of the International New Music Workshop at the Venice Biennale. He was commissioned to write an opera, The Magic Ring about the stock exchange and took it as a springboard to show how the frenetic activities on the floor of an exchange have far-reaching and interweaving influences on the pulse of the world.
His 1972 work Dune takes the imagery of a sand dune – soft, granular – and exposes it to the effect of 'accumulation processes.' Think of a sand dune, blown by the wind and formed and reformed into new shapes with each whisper of the wind. The three principal instruments, violin, cello, and piano form the dunes while the voices and percussion instruments are the 'shadows and reflections' of the event.
Francesco Hoch: Dune (Mixt Media Basel; Hans Wüthrich-Mathez, cond.)


This work falls into Hoch's second period, 'Multidirectional research,' where he's working out the relationships between compositional thought and different types of musical material. As a work of the 1970s, he's very much in the center of European and American experiments with sound and nature. The unique instrumentation, combining definite sound (the three instruments) with indefinite sound (the two voices and the 2 percussionists). As an audible manifestation of a visual entity, a living and moving dune, the work captures the illusionary and transitory nature of the dune – sometimes still, sometimes moving always changing, and influenced by the invisible wind.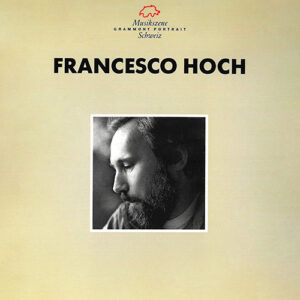 Francesco Hoch: Dune

Performed by
Mixt Media Basel
Hans Wüthrich-Mathez

Official Website