At the turn of the 20th century and past the end of WWI, Paris was the bright and shining light of culture for the world. Everything happened in Paris – new music, new art, new dances, new everything. Cafés were the centre of everyone's world and were the places to meet and be seen. In the café-concerts, music had a role and for the price of a coffee, the entertainment was free.
One of the most famous of the café-concerts was Le Chat Noir, in Montmartre, Paris. It was opened in 1881 by Rudolphe Salis and closed in 1897 at his death.
Music in Paris at the time incorporated all kinds of influences: jazz, exotic sounds from other places, traditional music, and the like. Composers such as Satie let their imagination run wild in creating their music. Other composers, such as Milhaud, brought back sounds from their international travels.
In Milhaud's piano work, Tango des Fratellini, Milhaud pays tribute to the three Fratellini brothers, François, Albert, and Paul.
They started as a pair of clown pairs, until their older brother's death when they formed a triple act. Each brother portrayed a particular character: François, was the elegant classical whiteface French clown; Albert was a comedic auguste – at the left in this photo; and Paul, the "contre-auguste", half-way between them, sometimes taking one brother's side, sometimes the other's. They performed at the Cirque Medrano in Paris and in the 1920s were the focus of the Parisian intellectuals. They had been recruited by Jean Cocteau for the pantomime ballet Le boeuf sur le toit, which had its premiere in February 1920.
In this piano work, you'll hear the original tune composed by Milhaud. In the entirety of Le boeuf sur le toit score, research has shown that Milhaud quoted more than 20 pieces by 14 different Brazilian composers in his 15-minute ballet. The opening melody, however, is pure Milhaud.
Darius Milhaud: Le Tango des Fratellini, Op. 58c (Dario Müller, piano)


This 2020 recording by Dario Müller focused on Parisian music between 1880 and the 1920s. Born in Lugano in 1946, Müller completed his piano studies in Zurich at the Musikhochschule. His recordings have included Beethoven's variations on themes by Italian opera composers, three CDs of music by 'American Indianists,' i.e., American composers who took up native American themes and melodies, and a recording of the melodies used in music boxed for the piano.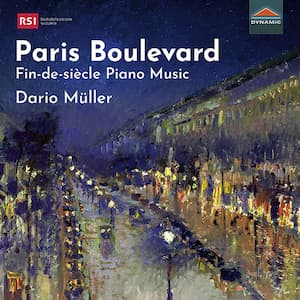 Darius Milhaud: Le Tango des Fratellini, Op. 58c

Performed by
Dario Müller

Official Website
For more of the best in classical music, sign up to our E-Newsletter