Oct 10, 2011
Karol Szymanowski
Nocturne and Tarantella, Op. 28 (arr. M. Skoryk) – Nocturne
Szymon Laks
String Quartet No. 3 – I. Allegro quasi presto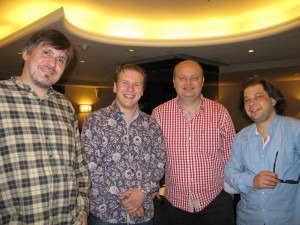 Concerts in Hong Kong

Oct 8, 2011
Szymanowski String Quartet No.2
Mozart Divertimento K.136
Laks String Quartet
Beethoven String Quartet Op.18, No.2
Oct 9, 2011
Szymanowski Nocturne & Tarantella
Ravel String Quartet
Chopin Etude
Beethoven String Quartet Op.59, No.2
Andrej Bielow – Violin I
Grzegorz Kotów – Violin II
Vladimir Mykytka – Viola
Marcin Sieniawski – Cello


You named your ensemble after Szymanowski- how did this idea come up? How were the first days organizing Szymanowski Quartet?

When we were young students, the idea of playing together in a quartet suddenly emerged one day. At first it was meant to be just for fun. After rehearsing for a few months we discovered our passion in it and were eager to receive proper training. Determined about our direction, we moved from Poland to Hanover to study string quartet professionally with Alban Berg Quartet. A year later we entered some national chamber music competitions and started our concert career.

How did the four of you meet?

We have known each other (with the former violinist) since childhood, at 12 or 13, in the only youth summer music camp in Poland back then. However we never had the chance to perform together. It wasn't until when Vladimir, who initiated the idea of forming a quartet, had come to study in Poland did we begin meeting for rehearsals regularly and eventually moved to Hanover together. There, Grzegorz met Andrej as both studied with the same violin teacher in Hanover. Instead of searching for each other, life brought us together.

How would you relate the ensemble with Szymanowski?

As a tradition, ensembles are often named after composers or the founder. Instead of giving our quartet an unusual title, which seems to be the major trend out there, we would rather establish our group with a mission. Fifteen years ago, Szymanwoski was not so popular in Germany- most people were ignorant about his two string quartets. In view of this, we wanted to promote Szymanowski's music, and also to unfold more about our Polish cultural background to reach more audience.

I noticed there was an interesting selection of programmes during the concerts in Hong Kong. You began with Szymanowski and ended with Beethoven on both days. Why would you make such an arrangement?

The programme was chosen from our last CD project, which aimed to highlight Szymanowski's reputation beyond just a composer- but also a learner from life who travelled a lot and closely connected with various masters. On the other hand, we would like to convince the audience that we, as Polish musicians, are able to perform a wide variety of repertoires covering both Slavic and classical works.

Lak's String Quartet is an interesting one. Why did you choose that?

This piece is rarely heard in concerts- not even in Poland. We happened to come across an opportunity to meet an editor from Durand, the French music publisher in Paris, a few years ago. It was him who introduced Laks, an unfamiliar name to us. Apparently he was editing the complete works by the composer, who had been a resident of Paris a long time ago, and turned our attention to the name. We were immediately fascinated and thus started performing his music. The String Quartet is a very Polish piece based on local folksong, which blends in very well with the entire programme in Hong Kong, aiming to promote Polish music outside our country.

The 2011 edition of Project Asia places a great focus on Beijing and Tokyo. What is the role of Hong Kong as one of the touring stops? How did you choose the cities?

As part of the Polish presidency in EU this year, our government has initiated a series of projects to promote Polish culture outside the country, mainly targeting cities like New York, Beijing and Tokyo. Since we had originally planned to start a tour in 2012, this opportunity had landed in the right timing- shifting our touring schedule one year ahead. Beijing, Tokyo, Hong Kong and Taipei were immediately selected as we focused mostly on Chinese speaking countries in central Asia. And that was when Hong Kong came into our minds- one of the world's most exciting and special city where we had always wanted to return to. Recalling our concert in Macau and two masterclasses in Hong Kong two years ago, we enjoyed every single moment of it so much that we had to ask our managers to schedule more performance opportunities for us in this city. Apart from Hong Kong, we had also performed in Guangzhou and Shanghai before, although it would be our first concert in Beijing.

After the Kontraste chamber music concert series, you have started the Lviv Chamber Music Festival in 2008. What had inspired you to start a new festival?

The Lockenhaus Festival founded by Gidon Kremer in 1981 inspired us. We were invited as guests a few times to play with many great musicians there. The year 2011 marked the last edition of Lockenhaus. We then decided to invite the many great masters, friends whom we met there to come and perform together at Lviv, the beautiful city where Vladimir was born.

And how do you envision the future of the festival?

In view of the ongoing financial crisis in Europe, a large portion of the festival running pretty much depends on financial support now. Fortunately the sponsorship situation is improving, so we are hopeful towards the future.

For this year's Lviv Chamber Music Festival, you have invited Maestro Bruno Montsaigeon. Are you going to have a documentary made with the Maestro soon?

(Laugh) Please ask Bruno- although we do think there is a chance that he might be interested. We certainly look forward to any form of collaboration. He is a mysterious artist who never discloses his current projects until they are done.
Bruno is a very talented person indeed- a composer, arranger, violin player and artist. Having appeared in this year's Lviv to show his films, he will return to the stage again in 2012 to play as a violinist. Outside Lviv, he also made his appearance in Ukrainian music festivals- last year we played with him together in Kharkov. It would definitely be our pleasure and honour to work with him.

Speaking of music recording, how do you decide on which piece to record? Do you have any new CD projects?

We discuss every possible suggestion thoroughly before coming to a decision. For this year's album in particular, it is themed upon Szymanowski and people who are influenced by him. Recording is not an easy task for us- we believe every musician would prefer giving concerts. Before recording a particular piece, we make sure it is one that we really like and are confident of presenting. As we record set programmes with labels, we try to avoid pieces we are not familiar with. We are extremely happy and lucky to work with the label CAvi, who invited us to record the complete set of Szymanowski's String Quartets. We are excited to have this project extended into several albums because then we could combine his music with other composers'.
This year we have three projects scheduled. The first two took place in Paris and Moscow, themed on composers who have been influenced by Szymanowski, with Laks being one of them. The third one will be recorded in November, featuring Russian composers. Later there will also be another project with Hyperion Records in London, on Polish Romantic Piano Quintet and Quartet pieces, although they are mostly written by less well-known composers.

I noticed the logo of Lviv Music Festival was a lion painted with musical notes. Is there any special symbolic meaning behind that?

That was Vladimir's idea. Lviv means "Leopolis"- the city of lion. It was named after Leo, son of the King at that time. That's why Vladimir also named his son Leo.
Our good friend, a very talented designer called Slava Schwarzstein, designs the logo. He also did all the paintings for our albums- sketches of very small figures playing musical instruments under the skyline of Paris and Vienna. You should take a look at our album covers; they're all really beautiful.

Having toured around so many countries in the world, could you share with us the most impressive concert and the worst you've had so far?

None of the concerts was said to be the worst- perhaps there would be one in 50 years. We really enjoyed every concert we played. We are very thankful to be able to come to Asia after being in Germany, France, Vienna and Italy etc. Here, the audience base in Asia is special. We are proud of being able to perform in Chinese cities like Hong Kong, introducing music that was never heard before to some. Again every concert has its special moments, so each one of them is impressive.
We certainly love Australia and Asia. However, It feels even more special and nostalgic to go home. We seldom perform in Russia and Poland due to our busy schedules. Now we are looking forward to our two concerts in Hawaii for the first time in early February, 2012.

The most unforgettable hardship you've ever had being trained as a professional musician? How did you overcome it?

To be able to study abroad was very difficult for Polish and Ukrainian students back then because of political reasons. To be financially secure was another adventure fifteen years ago. For us, cultural divergence was quite a big challenge: we used to be trained under the Eastern [European] school of musical aesthetics, so it was quite a difficult time when we first encountered other musical traditions in Germany, such as the music of Mozart and Beethoven. That was a completely new concept to realize how people perceive in a different way, let alone technical discrepancies of instrumental performance. Nonetheless, it was very fortunate for us to be able to study this important musical tradition, and to be surrounded by numerous maestros and musical works that were less accessible in Poland back then.

What makes you keep going after all these years despite the hardship?

Music is a very personal thing that really penetrates you. So it's sometimes good to find a way to distance yourself emotionally from the music before and after a performance. Of course you have to concentrate and express your feelings in a concert, but you can't always be too emotional- according to our experience. This is life, and we have to learn all the time. Every concert is different, every tour is different and that is exactly what keeps us learning.

Have you ever thought of giving up what you are doing?

Grzegorz: Oh yes, everyday. I guess it is the same for everyone. Why do I do this? A friend of mine who plays in the orchestra used to say, "Because you want to get flowers. I spend my whole life playing in the orchestra and I never get flowers!" Perhaps he was right.
Andrej: In Russia you always get flowers after concerts. However we noticed there was a different trend in Germany- we were once given some handmade Italian pasta after a concert. A big box! It was very creative indeed. Compared to other art forms in which the art is forever there, music is a new challenge for us every time. Listening to our previous recordings and realizing our progress throughout all the years is a powerful inspiration. To us, this means much more then being crowned as the best quartet in history by music critics. If we believe in what we are doing, nothing else really matters.
Marcin: I think it's about focusing on the right thing. Make sure you focus on something helpful, otherwise it'd be really bad. For us, it is music itself that keeps us going.

What are your passions besides music? How do you get inspiration from that?

Vladimir and Grzegorz: Family and Children. And Football.
Marcin: We are normal people except from being musicians! So we have a lot of passions outside what we make a living of. It changes all the time. For me, cooking could be a good inspiration.
Andrej: I like Ping-pong and badminton. I try to be involved at least once a week when we're back home. Music is also our passion, so we usually spend the whole day thinking about- if not practicing music.
Grzegorz: When I was a student, I used to be a columnist for a local youth newspaper. It was a column for students, which was nothing related to music. I like writing- I hope I can do this again when I'm older.
Andrej: Each of us is involved in so many different activities apart from music. For instance, I established a foundation in Hanover several years ago that provides education to the poor, targeting the youth. Grzegorz is head of Hanover's Society for Contemporary Music. Marcin and Vladimir are very occupied organizing music festivals. At the same time we're also exploring other musical possibilities, trying out solo, duo and different musical combinations. Although we are in the music world, it's not the only thing we do in our life.

Would you say the four of you remain to be the best musical partner?

Definitely. Sometimes the bonding between us is so intense that we feel we are doing something really unique. Compared with excellent musicians who meet and collaborate with each other in music festivals perhaps only once a year, we have been playing together for sixteen years. It has become a huge part of our life that is irreplaceable.


J.Haydn String Quartet in C Major, op.76 no.3 "Kaiserquartett" I. Allegro

CDs by Szymanowski Quartet
http://www.classicsonline.com/catalogue/product.aspx?pid=993953
http://www.classicsonline.com/catalogue/product.aspx?pid=1156923

Official Website
http://www.szymanowski-quartet.com/