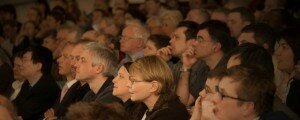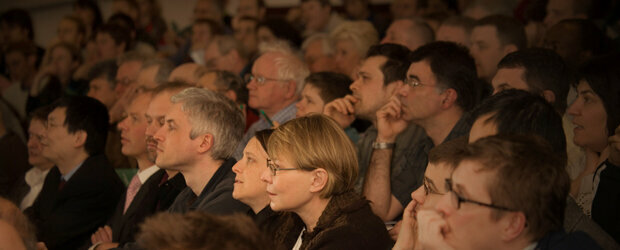 We go to concerts for a variety of reasons: to be moved emotionally, to be entertained, and as a social event. There was a time, prior to the nineteenth century, when engaging with what is now generally called "classical music" was a very convivial and highly social affair. Food and drink was consumed and people talked during performances – and even clapped between movements. In the formalisation of classical concerts, which occurred towards the latter part of the nineteenth century and still haunts many classical music venues today, we have rather lost sight of the more convivial aspects of concert-going, so concerned are we to conform to an unspoken concert etiquette.

I've been going to classical music concerts since I was a young child and I quickly learnt all about the etiquette of such occasions: for example, my mother would tell me not to yawn "in case the musicians see you and think you are bored!", and I loved all the little rituals of concert-going – purchasing a programme beforehand, interval ice-cream eaten from a tub with a tiny wooden shovel, the plush decor of the concert hall, the special clothes the musicians wore, and many other details large and small of "the concert" as a special event and a memorable experience. Because concert-going was such a big part of my musical development as a child, I never questioned the etiquette or formality of the occasion, merely accepted it as part of the whole experience of classical music. As I've got older, I have become far less concerned about silly customs such as not applauding between movements, believing that if we want to encourage people to come and experience classical music, we need to make them feel comfortable in the concert hall, immune from the hard stares or loud "shushing" of people who want to sit in rigid silence throughout the performance.

Finzi: Eclogue
Concert-going has always been a social affair, but until fairly recently the areas of the concert venue where socialising could take place were rather limited or not particularly attractive: a small overcrowded bar area and nowhere to sit is hardly welcoming. Fortunately, venues now recognise that socialising before, during and even after a concert is important for concert-goers and have responded by providing pleasant social areas where people can gather to chat and enjoy a pre-concert or interval drink and food. (London's Royal Festival Hall, for example, has spacious social areas and large airy balconies over look the river.) And from a practical point of view, venues make money from F&Bs ("food and beverages"): a single glass of house white at a leading London venue can cost as much as a decent bottle of Sauvignon in Tesco!

The social aspect of concert-going begins before one even arrives at the venue. There is the booking of tickets, organising dates with friends and perhaps getting a party of people together. The anticipation of the event can be very potent, especially if one is going to hear an artist or ensemble one particularly admires – and at a more basic level, going to a concert is a night out!

Before the concert, one might meet friends for supper or drinks. This can be an issue given the start times of concerts in the UK (usually 7.30pm), which means one has to eat around 6pm (rather too early for most adults). The British pianist Stephen Hough has written on the subject of concert start times at length and has suggested shorter, earlier concerts to give people a chance to eat afterwards, or concerts without intervals.

Meeting friends for pre-concert drinks gives one the chance to discuss and anticipate the programme, express one's curiosity about the artist/s or excitement about hearing him/her/them again. Then the audience bell sounds and we are summoned to the auditorium to take our seats. The house lights dim, our signal to fall silent in anticipation of the performer's arrival, and the adventure of the live performance begins.

I agree with Stephen Hough that intervals can be rather frustrating: one can spend most of the interval queuing for a drink at the bar (savvy concert-goers pre-order their interval drinks and some venues even have automatic ordering via a smartphone app) or for the ladies' loo. Sometimes an interval can feel like an interruption to the flow of the performance, but we accept it as part of the concert format – and of course performers need to have a break too.

Saint-Saens: Cello Concerto No. 1 in A Minor, Op. 33 – II. Allegretto con moto
The social aspect of concert-going is very important and should be encouraged and supported by the venues – because classical music is something really wonderful to share! Concert-going is also about sharing one's passion for music with others: taking a friend who has not sampled a classical concert before can be a wonderfully enriching experience, but I am mindful of the fact that while I may feel very much at home at a classical music venue, my companion may not because of the real or imagined formality and special etiquette of the event, and so I feel it is important to make my companion feel as comfortable and welcome as possible. Fundamentally, it reminds us that the music was written to be shared with others.