When fathers have plans and their daughters have other plans, it made for any number of comic operas and Cimarosa's The Secret Marriage is one of them. Geronimo has two daughters, Elisetta and her younger sister Carolina. He wants a nobleman for a son-in-law and has found Count Robinson. When he comes courting, he falls not for Elisetta but Carolina. Carolina has already married Paolino but hasn't told her father and so the whole set of misunderstandings begins. Elisetta is jealous of Carolina who doesn't want the Count anyway!
Domenico Cimarosa (1749-1801) was the composer of more than 80 operas of which Il matrimonio secreto (1792) is the best known today. In addition to his mostly comic operas, he also wrote church music and instrumental music. He was mainly based in Naples but his operas were popular all over Europe, receiving performances not only in Rome, Venice, and Florence, but also in Prague, Copenhagen, Stockholm, London, Hamburg, Vienna, and Berlin. He was resident in Russia as the court composer to Catherine the Great from 1787 to 1791. Returning to Italy, he sided with the wrong people in a civil war in Naples and was exiled to Venice where he died in 1801.
Cimarosa was very popular in the 19th century with him often being compared with Mozart. Stendhal declared that, even on pain of death, he couldn't choose between the two. Goethe, who heard Cimarosa's work in Italy wrote to Schiller praising an opera he'd just heard.
Cimarosa's libretto by Giovanni Bertati was based on a play from 1766 by the English playwrights George Colman the Elder and David Garrick. They, in turn, based their story on William Hogarth's painting series Marriage à-la-mode.
From its very beginning, we can hear the humour in Cimarosa's overture. There will be rushing around, unexpected confrontations, embarrassing scenes where love is declared and spurned and it's all there in the music.
The opera received its first staging at the Burgtheater in Vienna on 7 February 1792 and in Naples at the Teatro dei Fiorentini in 1793. It was a particular favourite of the Austrian emperor Leopold II. There is a story that after seeing the whole opera, he asked the company to repeat it again the same night, but unfortunately, there's no documentary evidence to support the story. It does indicate, however, how popular the work was even from its earliest days.
Domenico Cimarosa: Il Matrimonio Segreto (Le Mariage secret) – Overture

This 1958 performance by the Orchestre de l'Association des Concerts Pasdeloup is directed by Bruna Amaducci. The orchestra is the oldest symphony orchestra in France, founded in 1861 by Jules Pasdeloup. Instead of giving evening concert, they gave their concerts on Sunday afternoons at the Cirque d'Hiver. They focused on an Austro-German repertoire, rather than a French one, and so found a new audience. Swiss conductor Bruna Amaducci (1925-2019) made his name as an opera conductor, leading works at the Metropolitan Opera House in New York, at the Vienna State Opera, at the Deutsche Oper in Berlin, and at the Opéra National in Paris.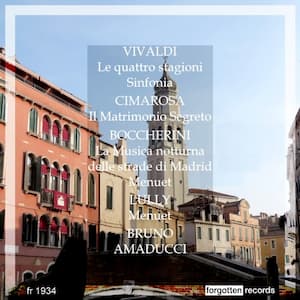 Performed by

Bruno Amaducci
Orchestre de l'Association des Concerts Pasdeloup

Recorded in 1958

Official Website
For more of the best in classical music, sign up to our E-Newsletter