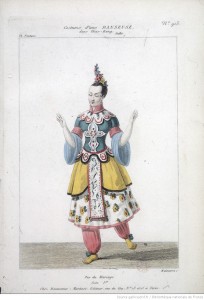 Louis Henry (1784-1836) was an exceptional French dancer, choreographer and ballet master. Born in Versailles, he started his career at the Paris Opera in 1803 but quickly got into heated competition with Louis Duport and Auguste Vestris. Vicious infighting forced him to leave the Opera two years later, and he became ballet master of the Théâtre de la Porte-Saint-Martin. In the process he managed to make a sworn enemy of the incomparable Pierre Gardel, and he had to hastily depart for exile in Italy. Finding a receptive audience in Milan, Naples and Vienna, Henry loved to stage pantomime ballets with decidedly exotic subject matters. Among his greatest successes we find "The Indian Sacrifice," "The Warriors-Women of the Amazon," "The Sultan," and the immensely popular "Chao Kang."


Since the craze for "chinoiserie" had reached fever pitch, a dance creation on the fight for accession of the Yu dynasty, turned out to be a great topic. Tai-kang, the grandson of Yu, was dethroned and nearly all his family massacred. However, the empress Ming escaped the slaughter and fled to a remote city where she gave birth to a son named Chao Kang. To conceal his origins, she employed him as a shepherd boy but his existence was disclosed to the ruling Han Tsou, and he sent order to capture him dead or alive.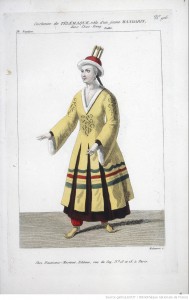 The youth once again escaped to a neighboring city, and became a servant in the governor's kitchen. His real identity was soon discovered, and the governor was looking for an opportunity to restore the youth to the throne of his ancestors. When Chao Kang reached the age of 30, he organized a conspiracy and his soldiers marched to attack the usurper. The attempt was successful, and Chao Kang entered the capital to be crowned to the cheers of the people.
Once you put the ballet dancers into nice exotic costumes and makeup, and accompany their movements with a bit of music, you have the recipe for success. And that's exactly what happened. Louis Henry predictably danced the title role, and the composer Luigi Carlini assembled various pieces of music by Rossini, Spontini and Romani into a highly popular ballet sequence. In fact, it was so popular that Mikhail Glinka, spending a bit of time in Italy, just couldn't help himself and quickly composed a set of variations!
Mikhail Glinka: Variations on two themes from the ballet "Chao Kang"