Commissioned by the Paris Opera, Verdi wrote a five-act opera based on Friedrich Schiller's play, Don Carlo. According to the grand opera criteria of the times, the work had to be sung in French, with spectacular scenes providing an opportunity for grand staging such as large choruses and ballets. And so the original score lasted four hours, excluding intervals. Luckily for me, the version I saw was restructured for Italian theatres and was trimmed down to four acts. It was still a four-hour show, but with two intervals rather than one.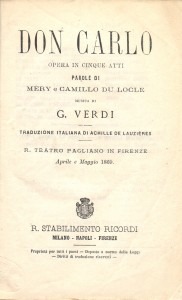 I was in Paris to celebrate the birthday of a close friend, and was very fortunate to get a last-minute ticket on a Friday evening. I had just arrived from Hong Kong and was fighting jetlag. I can't help but think that watching an opera with which I was unfamiliar was rather an achievement on my part, all things considered!
I am proud to say that I did not fall asleep at all. Although it lacked any famous arias, the music was beautiful, with passages that ventured into the sublime. The story is about Don Carlo's despair over his father, Philippe II, marrying his fiancée. It also tells of Philippe II's misfortune because his wife does not love him. To further thicken the plot, there is also the Princess of Eboli, who was mistress to Philippe II but also loved Don Carlo.
At this point, you must be wondering how the writer or composer came up with such complicated situations, but reality was actually even more perverse. Philippe II married four times, twice to cousins and once to his own niece. Don Carlo's sweetheart, Elisabeth, was the only one of Philippe II's wives unrelated to the family. What Verdi did was apply the age-old opera formula: the tenor (Carlo) wants to seduce the soprano (Elisabeth), but there's always the bass/baritone (Philippe II) in the way.

Giacomo Prestia, the Italian bass in the role of Philippe II, was simply mesmerising. His intense voice was full of colours and shades, and his rendition of "Elle ne m'aime pas!" (She does not love me!) was fascinating. In it, you can feel the sadness, loneliness and distress of a desperate old man whose love is not returned. Stefano Secco as Don Carlo and Sondra Radvanovsky as Elisabeth were both excellent, and the Orchestre de l'Opéra National de Paris played beautifully under the baton of Carlo Rizzi.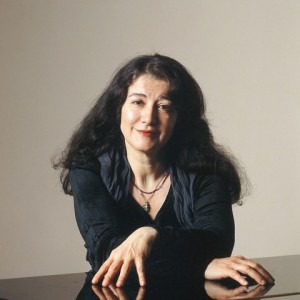 On Sunday, on a lighter note, I went to a Soirée Tango with Martha Argerich and friends. It was a very enjoyable concert; Argentinean music is so voluptuous, passionate, rich and effervescent. Most of the concert was dedicated to Astor Piazzolla, with some pieces from Ginastera, Mores, Paula and Aquirre.
Although the scores were rearranged or transcribed for instruments more conventional than Argentinean guitars and bandoneón, they captured the spirit of the original pieces. The musicians were clearly having fun playing and enjoying the lively music.
Among Argerich's friends was a young pianist from Venezuela, Gabriela Montero, who was absolutely amazing with her improvisations. They were so natural and exceptionally well structured that I wondered whether they were prepared in advance. She is a real talent, and not to be missed.
There was also Martha's daughter, Lyda Chen-Argerich, playing the viola. I had not known that Argerich's first husband was Chinese. When I learned that a compatriot was once married to one of the greatest pianists of our time, my curiosity was piqued. I spent hours trying to Google Mr. Robert Chen, but without any success. As you may well have guessed, there are millions of Robert Chens around.
Nevertheless, Lyda was a charming young lady, although she unfortunately did not inherit her mother's flamboyant character. She was more on the reserved Asian side, which does not really lend itself to musical expression. I guess it must be very difficult to be the daughter of such a famous and talented mother. I tried very hard to name outstanding musicians with renowned parents, but unfortunately, I could not think of any.
I guess we do not really get to choose our genes.
Giacomo Prestia: "Elle ne m'aime pas!" – Don Carlo (Verdi) Act 3

La milonga de Mariano Mores: Taquito Militar

José Luis Padula: Nueve de Julio

Martha Argerich/Eduardo Hubert: Libertango by Astor Piazzolla

Paris (2)
For a change, I would like to talk about the places where I snack.
I usually don't snack, but it is so difficult not to in Paris, where there are so many delicious restaurants, bars, cafés, pâtisseries, shops…
So let me list a few that I really enjoy.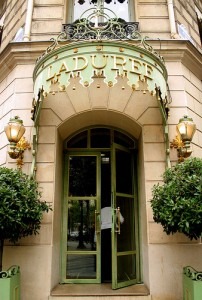 There is of course Ladurée, which most of you are probably already familiar with. I love their bar off the Champs-Élysée. You cannot book a table there; it is basically a bar where you can order drinks, apéritifs and snacks from their limited, light but delicious menu. I used to go there with my girlfriends as I find the food very feminine: mainly salads, seafood, fish, and of course, desserts.
For me, the highlight is definitely the dessert. I usually have a plate of four mini macaroons, and my favourite flavours are caramel au beurre salé (salted butter caramel), réglisse (liquorice), chocolat noir (dark chocolate) and their latest creation, épices (spices).
I love pata negra, and Jabugo Iberico is the place to go for aged black pig ham. You get to taste different ages of ham before ordering your favourite. I personally like it not too fat. It tastes great on grilled bread with tomatoes and garlic, all washed down with a nice red wine.
L'Ecluse, a wine bar chain, is another place I like to spend a few hours. It offers a large selection of red wine by the glass, and while the food menu is quite limited and conventional, they do have some of the best foie gras in Paris, and their chocolate cake is to die for. My advice is to go there for these two items, and then get on a diet straight afterwards.
I have a passion for truffles, whether black or white, winter or summer. At La Maison de la Truffe, there is a large variety of dishes where the star element is, of course, the truffles. For me, the item not to be missed is the Brie with Black Melanosporum Truffle. This cheese is simply divine. I once bought some to bring home, only to run into trouble at airport security. It is apparently forbidden to hand-carry anything 'soft', so I was left to either find a way to check in the cheese, or just throw it away.
So just imagine, with a mere half hour before embarkation, I was running around trying to buy a small bag for the cheese, begging the airline hostess to get me a box, and finally checking it in just in the nick of time. Good thing I was in France, where they have compassion for food-lovers. If that had happened in the US, I would probably have had to go through a full body search plus an extensive check on my family tree.
Photo credits: wikimedia.org, musicalcriticism.com, lanvertdudecor.com