Music is seen largely as a private matter – the hours spent alone practicing, the emphasis on the personal interpretation, the solo spotlight. However, at the same time, music is a social activity: the number of composers and performers who first learned music from a relative cannot be overlooked. An orchestra or a band is made up of individuals who must learn to play together. When we go to concerts, we're never an audience of one but a giant breathing collective that reacts as a group.
Bringing children into music becomes increasingly more difficult – there's all those distractions of electronics, of the television, of schoolwork – but, at the same time, its value cannot be underestimated. Musical children benefit from improved academic performance, better confidence, more creativity, how to work in a group, and so on.
Haw Par Music is based in Hong Kong's historical Haw Par Mansion, located on Hong Kong Island in Causeway Bay. The Mansion was built in the mid-1930s by Burmese Chinese entrepreneur Aw Boon Haw, known as "The King of Tiger Balm."
The adjoining Tiger Balm Gardens were open to the public and is remembered as a fantastically surreal park which was compared to Alice in Wonderland crossed with the horror film Saw with a large serving of Buddhism on the side.
Over time, the mansion fell into disrepair and the Garden was closed. In 2016, under a HK government scheme, the mansion was revitalized but the garden was lost in 2004 to luxury housing. Its location in the middle of Hong Kong made it too valuable to leave as a public space and the maintenance had to be considered. The mansion, created in a 20th-century mix of Chinese and western architectural features, with Chinese-style flying eaves, moon gates, a green-glazed tile room and a symmetrical layout joining western features such as porches, bay windows, and fireplaces.
The 2016 restoration led to the use of the space as a music education centre, where children can learn both western and Chinese musical instruments. Behind all of this are the three pillars of Music, Heritage, and Community. Today's music education is more than just lessons. Enrichment courses offered by Haw Par Music include programmes (short-term and long-term) such as mindful music meditation, wellness in music, music technology, song writing courses, and jazz improvisation are available for both children and adults. Community outreach takes the classes of Haw Par Music out of the building and into local programs with live performances, getting the audience to engage with the players, workshops, and demonstrations. Seeing someone play is one thing, actually talking to them is a greater step to getting an instrument into a child's hands. A recent community engagement event "Jolly Music Day" with the Hong Kong Chinese Orchestra introduced both parents and children to Chinese plucked and percussion instruments by teaching them a simple tune and then bringing the players together for a performance.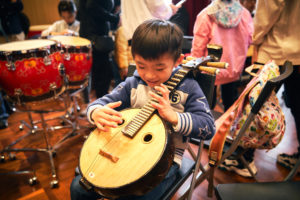 Haw Par Music is Asia's first music school in a Grade 1 heritage building. The program focuses specifically on the study of chamber music. The course offerings fall into two streams, the Chamber Music Academy, which is an intensive training programme for the musically-inclined and for serious students aged 10-18. This programme includes string orchestra, chamber music rehearsal and coaching, and, musicianship. In addition, students are required to participate in community engagement initiatives as part of the Social Programme. To supplement all that study, body movement or mindfulness in music class are offered as electives. The second stream is a more community-based approach where all ages and all levels, from young to old, are welcome. For example, currently there is an adult cello class where the players are all working professionals. These older students are also encouraged to join the community engagement initiatives as part of the Social Programme.
One aspect of the chamber music training is a program where students perform side-by-side with faculty members. Playing in a nurturing environment, which support gives students a different perspective on the art of ensemble playing.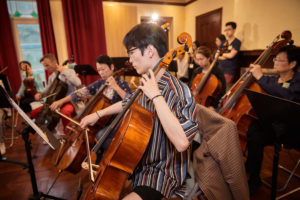 Haw Par Music uses music education as a platform for cross-cultural exchange. Music, heritage, and the arts are brought together and joined by a social initiative. It views its role as important in creating future community and service leaders for the city. This is far beyond what most music education programs are looking to accomplish, but a realization of the unique role of music in Hong Kong and Chinese students' life gives Haw Par Music its goal. Music study, as part of the many things parents encourage their children to do to improve their abilities, remains integral in Asia, whereas in music of the West, the study of music has become marginalized, or viewed as elitist and no longer part of the general education.
In addition to learning to play either Western or Chinese musical instruments, students are also able to learn something about the high art genre of Cantonese Opera. During the twice-yearly Chinese musical festival offered at Haw Par Music, students can learn in an acting workshop or be exposed to their familiar nursery rhymes being rendered in the musical style of Cantonese Opera. These kinds of heritage activities are valuable in making today's children aware of their musical background.
Children as young as age 2 can be part of the musical activities and some programs are aimed at the just born. In the Antenatal Music Session, a workshop focuses on active music listening and making that draws in not only the parent, but also the spouse and child, encouraging the creation of a personal womb song.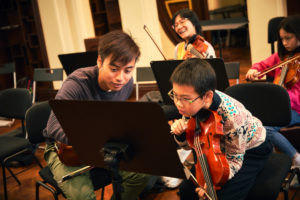 Students can join the Haw Par Music String Orchestra, listen to recitals and have master classes with leading musicians, participate in a project called "Our Audible City" where they create a site-specific musical work through composition in collaboration with the Hong Kong New Music Ensemble and Hong Kong composer Charles Kwong. Other initiatives have included work on "Contempo Lion Dance" that is a juxtaposition between modern and traditional dance as it meets multimedia, Chinese folk singing, parkour, and silent disco. Another collaboration was with the Design Trust on a heritage programme called "Heritage is Innovation" as part of the Design Trust Futures Studio.
The idea of social giving is an essential part of the programming – music may be a personal statement but it's also important for enhancing the harmony of a society, and bringing communities together. Haw Par Music also reaches out to underprivileged organizations and local NGOs to make music accessible. As part of the Social Programme, guided heritage and history tours of the Mansion combined with an hour of music-making with registered music therapy practitioners are offered. A new initiative is the "Chamber Scramble," where all, no matter what age, are invited to perform together. As the music is new to all participants, they quickly learn to rely on each other to make music together. For the students in the Scramble, they not only build their musicianship skills but also advance their social and leadership skills.
Last but not least, they have also launched "Music Hour", a one-hour live music series promoting local and international artists offering an array of sounds from classical, Chinese, jazz, pop to contemporary music. This is held on the rooftop the last Thursday of every month from October to April. It's music in the middle of Hong Kong, with a glimpse of the Victoria Harbour.
As a whole, Haw Par Music has created a musical world for the student of any age – learning an instrument, playing an instrument, playing in ensembles large or small – there's always another way to incorporate music into their world.