Think of the music of Latin America and one immediately conjures up the foot-tapping idioms and rhythms of dance – tango, salsa, bachata, merengue, samba, to name but a few. A keen advocate of lesser-known repertoire, in her new album Hong Kong-born pianist and musicologist Po Sim Head presents music by two Latin American composers – Peruvian Francisco Pulgar-Vidal (1929-2012) and Ecuadorian Blanca Layana Gómez.
The recording project, which Po Sim Head began in 2022, originated from her research into the music of Francisco Pulgar-Vidal, which drew her to discover more about the different sounds from South America.
"It was a fascinating research journey, and I met many people and musicians along it. At the time I graduated, I had collected many piano compositions and most of them were rarely known. So I decided I would record them and share them with more people. I think Latin American music is such a broad term that we tend to relate it to certain styles. In fact, the more time I spent learning about it, the less I felt I actually knew. It is so much to learn and understand Latin American music. It requires studying the cultures, folk music, languages, and more. I am attracted to the different sounds and styles of repertoire on my latest album. On the album, I have featured a few sets of pieces by Peruvian Francisco Pulgar-Vidal (1929-2012) and Ecuadorian Blanca Layana Gómez. Some of them are folklike and rhythmically driven but some of them are very lyrical and atmospheric." (Po Sim Head)
The album certainly showcases the richness and variety of this repertoire. There are foot-tapping dances, sensual, folksy melodies, and more meditative pieces reflecting the culture, landscape, and folk music of the composers' respective homelands. The pieces by Blanca Layana Gomez are inspired by the beauty of her native Ecuadorian landscape and nature and her own personal experiences. A reminder to protect the natural environment, the pieces use vernacular idioms and dance rhythms like the danza and habanera combined with polytonality and contrapuntal elements.
La luna de los niños (Version for Piano) : Entre las estrellas
Influential Peruvian composer Francisco Pulgar-Vidal (1929-2012) utilizes pentatonic and whole-tone scales, atonality, homophonic and contrapuntal textures drawn from the western Classical tradition combined with idioms drawn from traditional Latin American instruments such as the Andean harp and the pan pipes, and folk rhythms and melodies to create music which is varied, vibrant and imaginative. There are jazz elements too in some of the rhythms and harmonies and the use of ostinato figures in the bass line.
Francisco Pulgar Vidal: 3 Movimientos Obstinados – No. 1 Allegro (Po Sim Head, piano)

Francisco Pulgar Vidal: Sonatina Chuscada – III. Veloce – Allegro vivo (Po Sim Head, piano)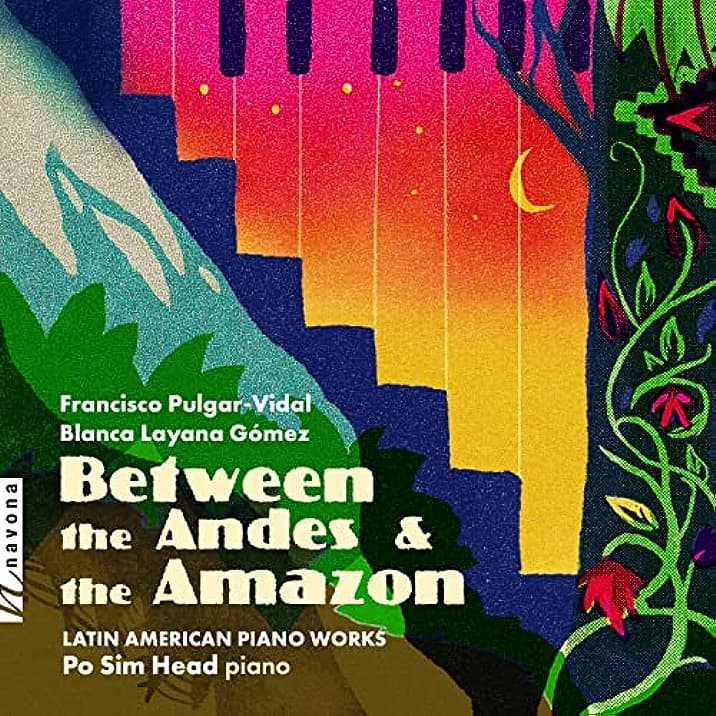 Po Sim Head makes a persuasive case for these composers and their music in her colourful and thoughtful performance. She is alert to the myriad textures and rhythms, styles and moods of these pieces, and the result is an interesting, absorbing, and generous album which introduces the listener to the range and variety of this repertoire and will, hopefully, encourage further exploration of the music of Latin American composers.
Between the Andes and the Amazon is available on the Navona Records label and also via streaming platforms.
For more of the best in classical music, sign up for our E-Newsletter