Dear Oliver,

We are pleased to invite you to audition, which will take place at 10.56 am on the 1st April.
These are the first words you read on the email – the initial joy of having secured a place at the audition can often quickly be overshadowed by the realisation of what you're in for. Recently, it's been a fairly audition-heavy few months – I've been auditioning for postgraduate funding to help fund my masters degree on the clarinet – and so I thought now would be an interesting time to offer a few words of wisdom, whether you're reading this for help with preparing for auditions yourself, or just curious as to what goes on behind the scenes of music colleges, orchestras, festivals and competitions.
Please prepare two contrasting works of around five minutes each.
Repertoire choice is crucial in an audition, and many hours have been spent agonising over what you can play in that all-important ten minutes. 'Is this different enough from the other piece?' 'This one's quite notey, so does the other one show off my sound?' 'It's just over five minutes – will they stop me beforehand? I've really practised that flashy bit at the end!' Ultimately, I always play something I'm very familiar with. Of course, you'd like to think that you're 'familiar' with something you're playing in an audition (!) but I think there's a difference sometimes between playing something you're
capable
of playing, and playing something you've played a lot before, something that you're really comfortable with playing. Just like cooking too complicated a dish for a cookery competition, an audition can often flop due to badly thought-out repertoire choices. Avoid a flat soufflé of a performance! Play things you know and love. This time round, I settled on the exposition of the first movement of the Mozart Clarinet Concerto, and an
Hommage à Manuel de Falla
by Hungarian clarinettist Béla Kovács.
Béla Kovács
Hommage a Manuel de Falla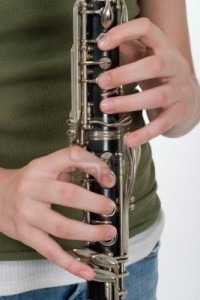 A warm-up room is available 15 minutes before the audition, and an official accompanist will be provided.
In some ways, it's a comparative luxury having an official accompanist. In others, it can be a bit of a nightmare. Bringing your own accompanist means you've had plenty of rehearsal; you know how each other plays, and even seeing a familiar face in the audition room can help put you at ease. However, these extra rehearsals can eat up a lot of time in the weeks leading up to the audition, and often it's hard to get your own accompanist at what can be very short notice given by the auditioners. Having an official accompanist saves you the cost of bringing another person to the audition venue, but people often find themselves pressed for time in the warm-up room. My advice: try to get through everything at least once, and don't feel obliged to 'rehearse' for the whole warm-up time. Professional accompanists are experts at making you feel comfortable! They'll be perfectly happy with playing as much or as little as you want.
Please confirm whether or not you can attend. We look forward to seeing you.
Silly point, I know, but do make sure you actually let them know you're going to show up! Auditions are always over-subscribed, so if you don't acknowledge your offer it's likely it'll get passed on to someone else.
It's easy for auditions to feel like a totally artificial experience. You only play for around ten minutes, and even then you might not be playing whole pieces – just excerpts. If you view the audition (much like any job interview) as a tiny window of time, in which you absolutely have to prove yourself to the panel, you can often put unnecessary pressure on yourself. If you can remove a small amount of that pressure, you'll help yourself no end – easier said than done, I know. I prefer to see auditions as a mini-recital; remember that the judges are, after all, human beings who, crucially, love music – if they didn't they wouldn't be sat listening to you. I'm sure they'd prefer to hear a true
performance
of a piece, rather than a half-hearted rendition of a work that they've maybe already heard ten times already today. Obviously, everyone's way of preparing for auditions is different, and I would never imply that this advice is the 'correct' or 'only' way to do it, but to me, it makes sense. If you can see the audition in a less clinical light, as a
performance
, you free yourself from the mindset that comes with the feeling of being constantly assessed. You might find yourself less nervous – and who knows, you might even enjoy it…