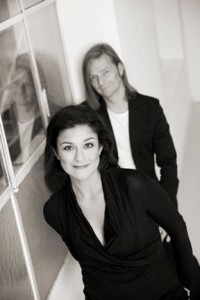 What's this project?
This is our dream: We're finally in the position to share with you all the unsung songs we've found. Some people ask why we bother spending our time with the works of composers nobody has heard of. Our answer is always: because we love to search for and discover new music.
Anyone looking through a music encyclopedia will find that a fraction of the composers listed are actually played in concert halls all over the world. Of course the repertoire differs a bit so that you will hear more french composers in France than in Germany or Finland for example. The variety of music played at one specific concert hall of course also depends on the interest and focus of the artistic director. This could be "18th century music" or "contemporary classics" etc.

But Mozart, Beethoven, Schumann, Mendelssohn, and Mahler, to name a few, are omnipresent.
To hear a symphony by Heinrich von Herzogenberg or chamber music by Rebecca Clarke, you will probably have to travel further than to your local town hall. Unknown music doesn't draw a crowd. Dwindling attention from the audiences puts pressure on the organizers. So they play it safe with popular symphonic repertoire. Chamber music concerts are rare, and art song concerts only ever reach break-even financially with the big names.
Happily there are record labels off-mainstream that make it possible to at least hear unpopular music on CD.
One might ask why these composers are so obscure. Isn't there something like a natural selection taking place to let only the highest-quality music reach immortality? Yes and no. Of course there were always composers writing boring music around. Famous composers no exception. But it certainly would be a mistake to think a composer probably is of little interest only because he's unknown.
Stay with us. There is much to explore.
Hélène Lindqvist
The swedish-egyptian soprano Hélène Lindqvist received her first training with the renowned vocal coach Florence Düselius in Stockholm. She then studied singing and performing arts at the University of Music in Saarbrücken, Germany, and at the Mozarteum in Salzburg. She attended masterclasses with Eva Marton, Bernd Weikl, and Jessica Cash. Still at the University she won the first price in the international art song competition "Concerto delle donne" in Kassel.
At the Hamburg state opera she sang the roles of Fortuna and Damigella in L'incoronazione di Poppea by C. Monteverdi conducted by Alessandro de Marchi.
After her sensational debut in the Soprano part of Ligeti's Aventures & Nouvelles Aventures with the ensemble of the Saarland state opera in Germany she there performed many roles of the lyric soprano repertoire such as Ilia in Idomeneo by W.A. Mozart and Ännchen in Freischütz by C. M. v.Weber. With the company as well as with the German Radio Philharmonics Saarbrücken Kaiserslautern she also sang leading roles in a number of world premiere performances.
At the opera houses in Ulm and Regensburg she performed Tatjana in P. Tjaikowsky's opera Eugene Onegin as well as Gilda in G. Verdi's Rigoletto. In Ulm she sang a wide repertoire including Konstanze in W.A. Mozarts's Abduction, the Countess in Marriage of Figaro, Fiorilla in G. Rossini's Turk in Italy and the great sorceress in G. F. Handels's Alcina. The role of Gilda also took her to Augsburg and Ingolstadt.
Hélène Lindqvist was greatly acclaimed in the magazine "Die Deutsche Bühne/The German Stage for her staged version of Pierrot Lunaire by A. Schönberg.
She is featured on many recordings, including swedish art songs by G. De Frumerie, solo-pieces by D.Terzakis, a chamber reduction of the 4th symphony by G. Mahler and "Jugendlieder" by A. Berg. The Berg recording was hailed as an impeccable interpretation and received a five-star rating in the "Neue Zeitung für Musik/New Music Magazine".
Helene Lindqvist is also a much praised soloist in works for the concert stage such as the Requiems by G. Verdi and J. Brahms, Stabat Mater by G. Rossini, Roi David by A. Honegger and the four last songs by R. Strauß.
Philipp Vogler
Born in Itzehoe (Schleswig-Holstein/Germany), Philipp Vogler studied at both the Music Universities of Cologne and Düsseldorf. He is a pianist, accompanist, composer and conductor.
His activities as pianist are featured on numerous recordings, such as Jugendlieder (Songs of youth) by Alban Berg (col-legno, 2002) and Abschied und Ankunft, Lieder aus Heimat und Fremde (Farewell and arrival, Songs from home and abroad), edited in 2003 by edition Körber-Stiftung (in Co-operation with State Opera Hamburg).
His professional activities of the past include engagements at the Municipal Theatre in Augsburg (Germany) and the Saarbrücken State Theatre. Between 1995 and 1999, he conducted there The Magic Flute and Il barbiere di Siviglia and premiered several commissioned compositions of incidental music. In 2000 he conducted Orff's Carmina Burana and Gustav Holst's orchestral suite The Planets at The Royal Albert Hall in London. From 1999 to 2003, he was a member of the Hamburg State Opera, first as répétiteur, later on as Head of Music.
Since 2003 Philipp Vogler is a professor at the University of Music and Performing Arts Munich, positioned as the Musical Director of the Opera Programme. There he conducted numerous widely noticed local premières and operatic rediscoveries, such as Bellini's I Capuleti e i Montecchi, Karl Amadeus Hartmann's Wachsfigurenkabinett (Wax Works) as well as Korngold's musical Comedy The mute Serenade.
Furthermore, he is regularly performing chamber music together with the great violinist Stephan Schardt.
Related videos:
Nadia Boulanger Cantique

http://theartsongproject.com/nadia-boulanger-cantique
Federico Mompou Pastoral

http://theartsongproject.com/federico-mompou-pastoral#more-740
Rebecca Clarke Shy One

http://theartsongproject.com/rebecca-clarke-shy-one
Official website: http://theartsongproject.com/