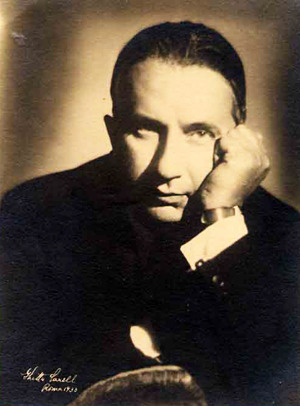 Alfredo Casella (1883 – 1947) was an outstanding Italian composer who led several of his contemporaries, such as Respighi, Malipiero and Pizzetti, to modernize the music of their home country. The interests of Casella as a composer and as an author of music-related articles were highly cosmopolitan, both gathered from his early enthusiasms for the works of Debussy, Strauss, Bartók, Schoenberg and the Russian nationalists, as well as intensely inspired by Italian culture, including its folkways and its Futurism movement.

Born in Turin in a family of musicians, Casella entered the Conservatoire de Paris in 1896, studied under Gabriel Fauré and Louis Diémer. In 1899, he won the first prize in a piano competition, and started his tour in Europe. After listening to Prélude à l'après-midi d'un faune, Casella developed a deep admiration for Debussy's works, but still he pursued a more romantic vein in his own compositions, which was stemmed from Strauss and Mahler, rather than turning to impressionism. In 1905, Casella wrote his first symphony, and with this piece Casella made his début as a conductor when he led its première in Monte Carlo three years later.
From the 1910s to the 1920s, Casella spent a great deal of his time teaching piano at the Accademia Nazionale di Santa Cecilia in Rome, as well as appearing as a guest conductor in the United States. In 1923, together with Gabriele D'Annunzio and Gian Francesco Malipiero, Casella founded the Corporation of the New Music, an association to promote the spread of modern Italian compositions. Being one of the best-known piano virtuosos of his generation, Casella formed the Trio Italiano in 1930, together with violinist Alberto Poltronieri and cellist Arturo Bonucci. In 1938, Casella returned to Italy, and he remained in his homeland until his death.
Casella had his biggest success with the ballet La Giara, set to a scenario by Luigi Pirandello. Other notable works include Partita and Scarlattiana for Piano and Orchestra, A Notte Alta, Sonata A Tre, and the Concerto for Piano, Strings, Timpani and Percussion. In general, Casella's work on behalf of his Italian Baroque musical ancestors had put him at the centre of the early 20th Century Neoclassical revival, and had profoundly influenced his own compositions as well.
Related videos:
Concerto for Strings, Piano, Timpani and Percussion, 2nd movement

Notte di Maggio (1913)

Marc-André Hamelin – Alfredo Casella: Deux Contrastes

Photo credit: rodoni.ch