Igor Stravinsky (1882-1971) achieved fame and position as a composer building on a basis of a firm understanding of the art of composition. He came from a musical family – his father, Feodor Stravinsky, was a celebrated opera singer and much of the young Igor's time was spent at the Mariinsky Theatre in St. Petersburg where his father rehearsed and sang. The young Igor started piano lessons at age 9 and at age 21, started composition lessons with Nikolay Rimsky-Korsakov. Rimsky-Korsakov's strength was orchestration, and his student took in the lessons on instrumental colour and texture and applied them brilliantly. Feu d'artifice was one of the first products of his study and can be heard almost as an homage to his teacher. Its first appearance on the concert stage in 1909 would change Stravinsky's life forever, because it was heard by the impresario Serge Diaghilev, who was in the process of introducing new Russian music and dance to the west.
What we hear in the young Stravinsky's work is a brilliant showpiece that picks up the same kind of vibrant colour we're used to in Rimsky-Korsakov's work. The opening is atmospheric, there's energy in the watchers and then, boom, the firework goes off into the air and then slowly drifts down, lighting up the evening sky. One technical effect we can hear that is un-Rimsky-Korsakovian is the use of imitation counterpoint. Rimsky Korsakov had so little interest in counterpoint that he sent Stravinsky to an assistant for those lessons – and Stravinsky incorporated them into his repertoire and would be important for decades to come. The music constantly builds and falls, just as every firework does, catching our attention with this colour or that colour. His use of percussion underscores the audible imagery until the big ending.
Igor Stravinsky: Feu d'artifice (Fireworks), Op. 4 (Seattle Symphony Orchestra; Gerard Schwarz, cond.)


Conductor Gerard Schwarz (b 1947) is currently the Artistic and Music Director of Palm Beach Symphony and the Director of Orchestral Activities and Music Director of the Frost Symphony Orchestra at the Frost School of Music at the University of Miami. As music director of the Seattle Symphony from 1985-2011, his 26-year tenure there saw the orchestra make more than 100 commercial recordings, with an emphasis on American and American 20th-century composers. He now serves as an orchestra's conductor laureate.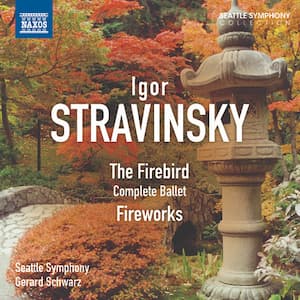 Igor Stravinsky: Feu d'artifice (Fireworks), Op. 4

Performed by
Seattle Symphony Orchestra
Gerard Schwarz

Official Website
For more of the best in classical music, sign up to our E-Newsletter